What is Comfort Food?
It's a phrase we've all heard before. One that's not easy to define. Yet everyone has an idea of what 'comfort food' means, and it's something that seems to transcend all types of cuisine. So, what is comfort food?

There are different definitions of comfort food, but many include the following points:
Comfort food is:
Food that elevates your mood.

Food that evokes feelings of nostalgia or childhood memories.

Food that keeps you warm on a cold evening.
It's fair to say that whatever we consider comfort foods, they should be hearty, rich in taste, and be something, or similar to something, that you've tried before, perhaps as a child. So, let's take a look at some comfort foods that can play a part in menu offerings.
In Season Ingredients
Before we jump into exploring comfort food recipes, it's important to consider seasonal ingredients. Doing so gives us the opportunity to prepare meals of outstanding quality with maximum freshness. 
Being aware of in-season produce and incorporating those ingredients into menus enables you to elevate your menu offerings, stand out over competitors, and serve something special for customers. 
Whether those ingredients are ripe tomatoes, flavourful mushrooms, or vibrant zucchini, be sure to see our guide on Making Menus with Seasonal Ingredients.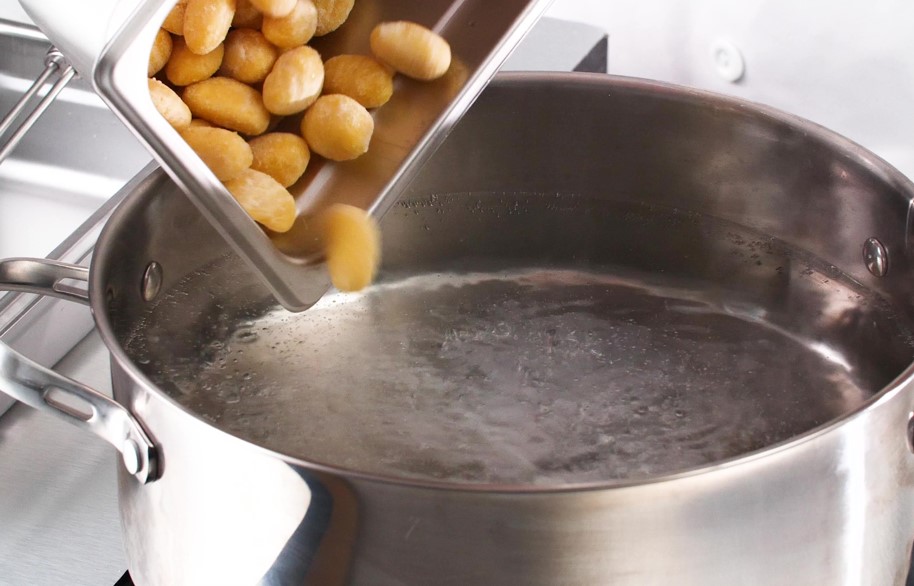 Comfort Food Menu Options
Now let's look at some menu options that will lift your customers' spirits and make them want to come back again in no time. Many of these dishes are classics or contain classic ingredients but have been revamped with a new, modern, and innovative twist. The goal is to embrace the familiar and demonstrate originality at the same time.
Brunch
For a hearty and comforting brunch, this Loaded Bacon and Egg Breakfast Skillet Gnocchi is a large dish that's packed with familiar flavours though put together in its own distinct style. With crispy bacon, eggs, and skillet gnocchi, this is sure to please brunch lovers.
Eggs Benedict is a well-known brunch classic. However, when made with the addition of fresh gnocchi, as in this Eggs Benedict with Skillet Gnocchi Stix, the flavourful taste and chewy texture of the gnocchi add a whole new layer of comfort to the dish. There are various ways to prepare this recipe using our fresh gnocchi products. 
Meals for Meat Lovers
Take your customers on a nostalgic and meaty journey with this Skillet Gnocchi Meatball Lasagna Extravaganza. Flavourful meatballs, fresh lasagna layers, and skillet gnocchi create a fusion of great-tasting Italian-inspired delights. 
For a mouthwatering mix of savoury deliciousness, opt for this Braised Beef au jus Ravioli, Mushrooms, Maple Syrup and Québec Cheese Curds. In this recipe, you'll find classic and comforting Canadian ingredients intertwined with Italian for a meal to remember.
The much-loved favourite of mac and cheese can be prepared with an innovative twist in this Skillet Mac and Cheese Bacon Gnocchi with Broccoli. With a warm and gooey melt of cheese between the gnocchi meat and greens, the result is irresistible.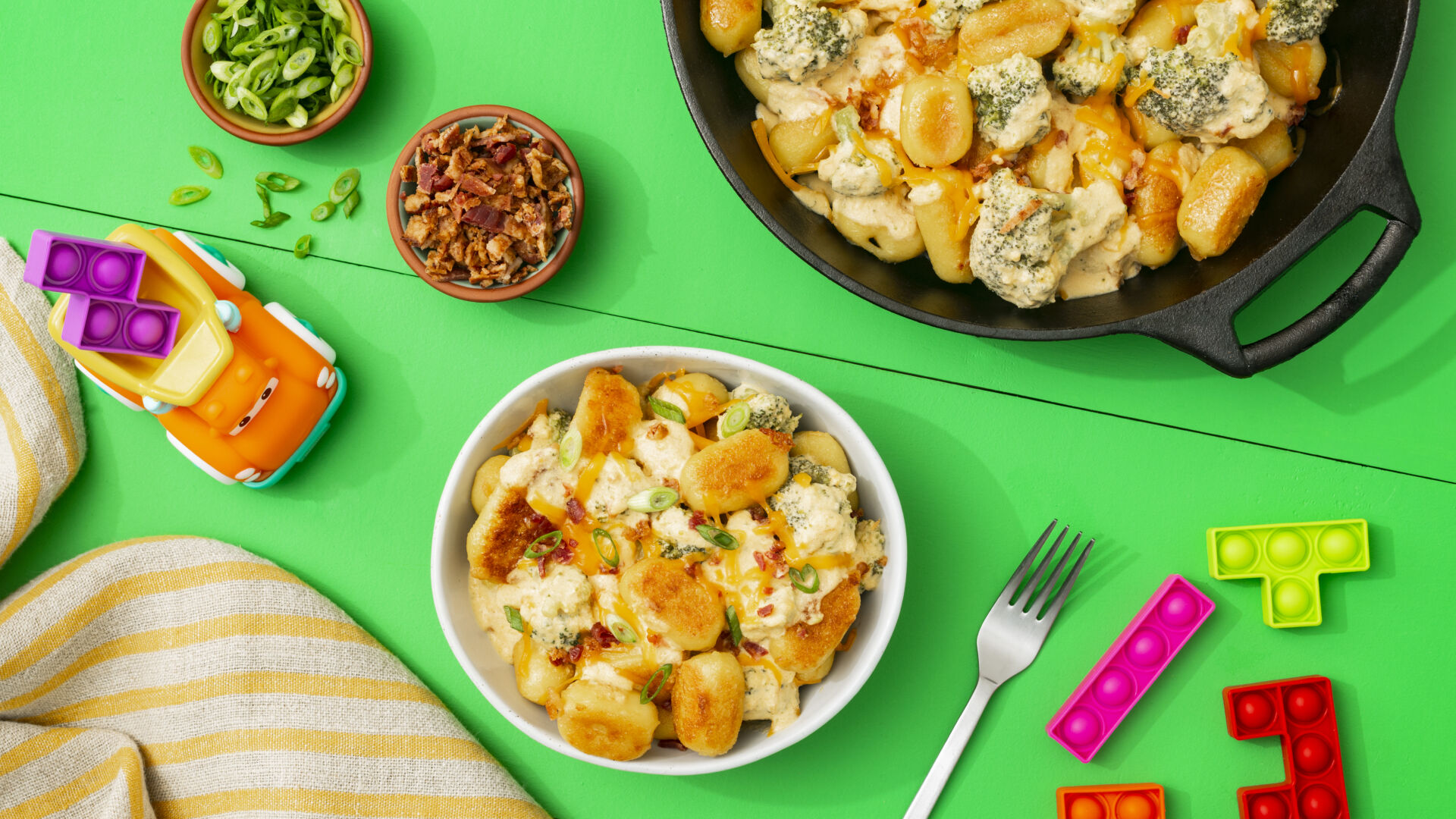 Meat Free Menu Options
As restaurant owners know, having vegetarian options available on the menu for customers has become increasingly important over the years, and this trend shows all the signs of continuing. So, let's take a look at some recipes that are entirely meat-free but still offer customers that comforting feeling.
Warm with layers of pasta sheets, filled with sauces, and cooked until golden and crispy on top, who knew a lasagna could be just as delicious and satisfying without meat? It certainly can, as proven by this Roasted Zucchini Lasagna. 
While it's tempting to look at detailed ingredient combinations to create satisfying meals, sometimes simplicity is the key. This Parmesan and Garlic Skillet Gnocchi is testament to that, consisting of just a few ingredients but resulting in a delectable dish to please the cheese and garlic lovers.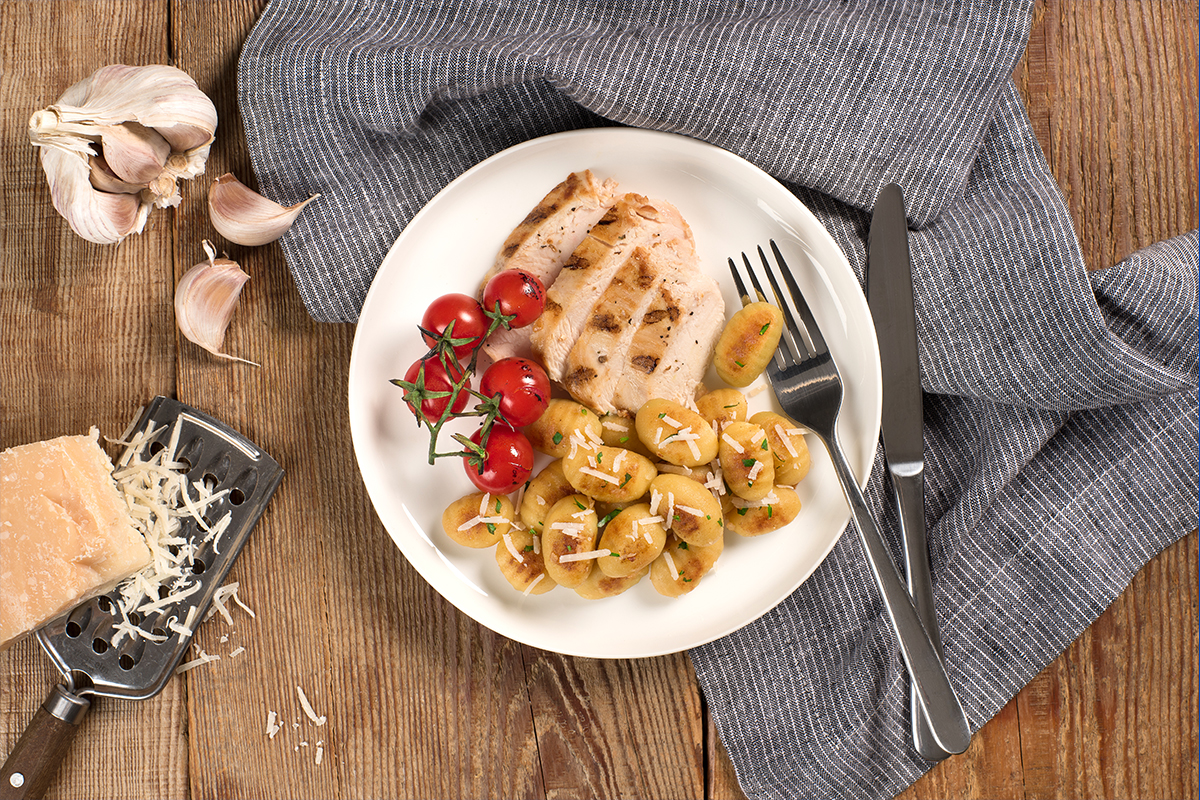 RIch, indulgent, and ideal for vegetarians, this Alfredo Gnocchi with Crumbled Blue Cheese is topped with creamy alfredo sauce, which we provide in different varieties. The pale colour coordination combo of gnocchi, cheese, and creamy sauce also creates a visually appealing and elegant plate.
Finally, there are always customers who find comfort in a soup dish. You can prepare one for vegetarians with this Mama's Tortellini Soup by using vegetable broth and adding the right herbs and spices to the mix. Since soups are largely made of liquid, they also tend to be cost-effective dishes, meaning a win-win scenario for restaurants and customers alike.
Whether you're in need of menu ideas, kitchen tips, or product guides, stay tuned to Olivieri® Foodservice for the latest culinary inspiration.