Elevate your menu by using seasonal ingredients in your dishes. Buying seasonal food is an effective way of saving money, keeping your menu interesting and serving your guests the quality they deserve. Whether you plan on making a menu that refreshes every quarter, or desire to add a few seasonal dishes on rotation, having these options will add that extra touch that keeps your guests returning for more. When paired with Olivieri® products, you can create fresh and quality dishes that bring homemade comfort into your restaurant.
Keep a few favourites on the menu year round, and experiment with rotational dishes that change with the seasons.
Why Use Seasonal Ingredients?
Buying seasonal means that you are investing in quality ingredients at their peak: tastes, texture and nutritional properties are at their best and notably elevate dishes.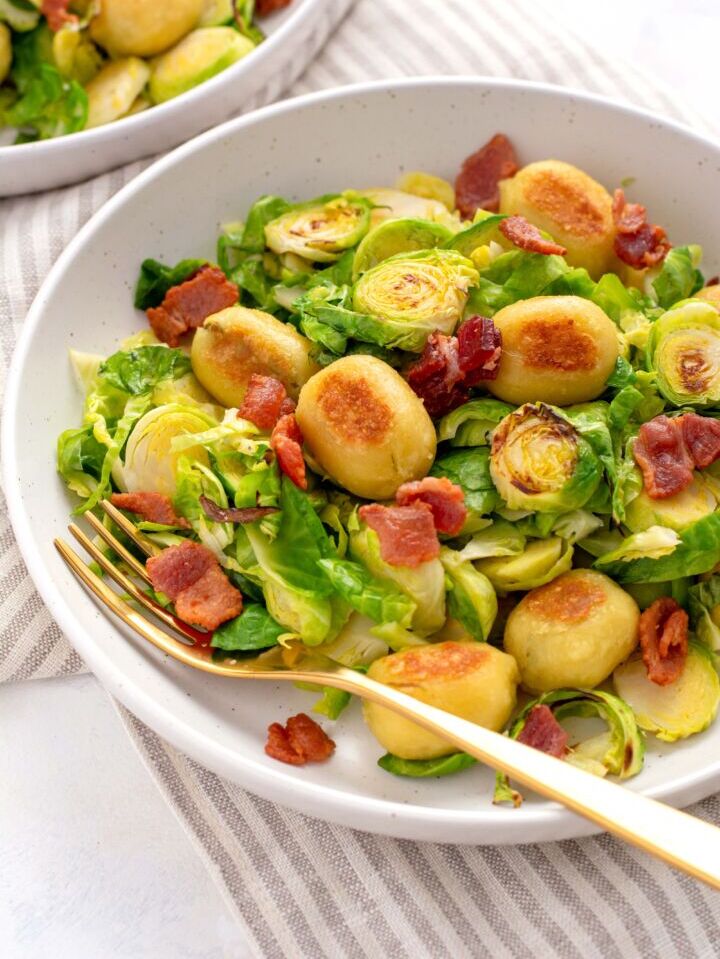 Though changing your menu may seem a daunting task, buying produce in season that allows you to create new dishes every quarter has many benefits that make the extra effort worth it.
Read on to discover advantages of implementing seasonal menu items.
Variety
Seasonal produce allows you to change up menu items every few months, offering your returning guests variety, making them want to come back for more each season. If an entire seasonal menu isn't possible, you can start by adding 1-2 seasonal specials to keep it updated and fresh!
Taste and Quality
Fresh ingredients will make you stand out among competition and provide the quality that will guarantee repeat customers.
Farm to Table
Offering some seasonal dishes with farm-to-table ingredients will increase the quality of your food and impress your guests. When possible, opt to buy local. In addition to supporting your local community, buying local goods ensures fresher goods while cutting down on transport time and expenses. Learn more about buying local ingredients here with Olivieri®.
Save Money
While there are kitchen staples you need to keep stocked at all times, such as our Sundried Tomato Pesto Sauce, avoiding using produce that isn't in season helps cut costs. Though with today's technology, we have the joys of eating most produce year-round, out-of-season products will have to come from farther away, requiring more resources and increasing the price. Shopping for local produce in-season provides fresher, higher-quality ingredients while reducing food costs.
Eco-Friendly
Buying seasonal goods is not only sustainable, it will save your business money as it reduces the need for labour, transportation and storage, and the need for preservatives.
Guide To Seasonal Produce
From rustic root vegetables in the winter to bright, juicy fruits in the summer, Canada's fertile farmlands offer a beautiful variety of fresh produce all year round. It may be easier than you think to give your guests a farm to table experience.
Check out this guide to get an idea of when to buy what particular produce.
Winter
Though Canadian winters are often harsh and unforgiving, they also yield delicious vegetables that inspire warm dishes. Potatoes, squash, and other root produce thrive in these harsh conditions, providing a plethora of meal options that will attract customers, even during the winter cold.
Try making a roasted vegetable lasagna layered with Olivieri® Pre-Cooked Lasagna Sheets, sweet potatoes, squash and zucchini, perfect for your vegetarian guests. Or build a colourful and hearty winter salad with beets, brussel sprouts and Olivieri® Fresh Potato Gnocchi.
Popular Winter Produce: Beets, Cabbage, Squash, Brussels Sprouts, Pears, Sweet Potatoes, Leeks, Red Onion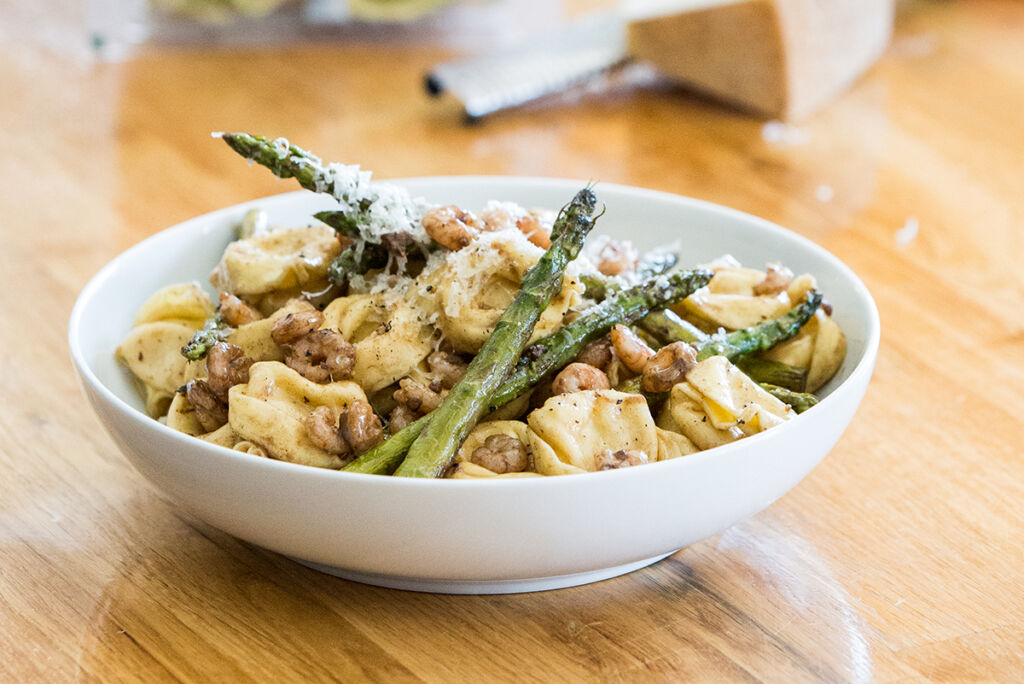 Spring
As the snow melts, new crops sprout with the warming weather. With a variety of produce coming into season, spring is a great time to freshen up the menu with crisp leafy greens and local rhubarb. Spring produce brings plenty of creative possibilities – and colour! – in the kitchen that will inspire chefs and satisfy guests.
Menu Idea: Use our 3 Formaggi Tortellini, and local Canadian flavours like Matane Shrimp, Québec Asparagus, and common kitchen staples – spices and dressings – to create this elevated menu item for your customers. After cooking our Tortellini per directions, just follow these steps:
Cook our 3 Formaggi Tortellini to an internal temperature of 74ºC (165ºF) in salted water.
Fry asparagus in olive oil then add in garlic, thyme, balsamic vinegar, salt and pepper and cook for a few minutes before placing in a bowl.
Fry shrimp in olive oil.
Add cream, pepper, asparagus, tortellini, and mix together.

Topping Tip: Grate some parmesan cheese on top or sprinkle some Gré des champs shavings for a gourmet touch.
Spring Produce: Asparagus, Spinach, Rhubarb, Kale, Morel Mushrooms, Green Onions, Radishes, other Salad Greens
Summer
From the plains of Manitoba to the peaks of British Columbia, summer time in Canada brings about beautiful weather and a variety of colourful produce. As the North finally heats up, a beautiful selection of seasonal produce blooms. Many fruits like strawberries, raspberries, apricots and watermelon start to ripen, and a broad selection of vegetables reach their prime.
When it comes to summer produce, the list is long, giving your restaurant endless menu possibilities from June to September! Think of fresh, bright and colourful dishes that will capture your customers' senses. Summer time produce gives way to many opportunities for a rainbow of variety on your menu!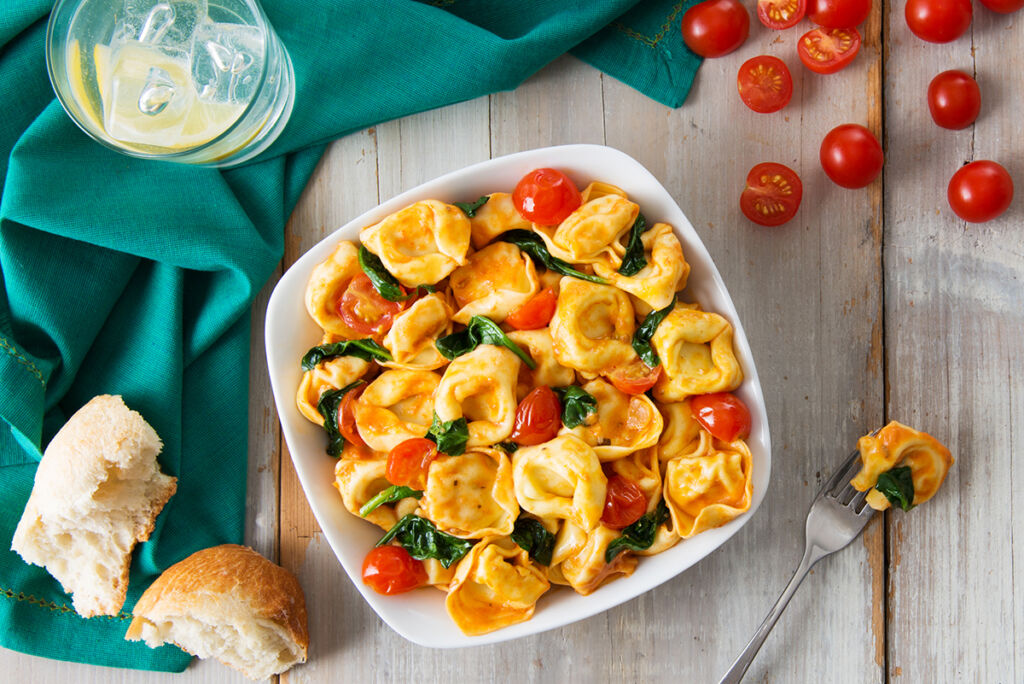 Menu Idea: Simple, vegetarian, and colorful, this recipe is perfect for your summer menu. Just buy some fresh juicy tomatoes and make this recipe made with our 3 Formaggi Tortellini in a few quick steps:
Cook our 3 Formaggi Tortellini to an internal temperature of 74ºC (165ºF) in salted water.
Cook one of our delicious sauces, like our Red Pepper Pesto until heated through.
Toss in spinach and pasta.
Top with halved cherry tomatoes for a pop of colour.

Plating Tip: Use vegetables with bright contrasting colour to create a dish that guests will find instagram-worthy!
Summer Fruits: Cherries, various types of berries, Apples, Grapes, Melons, Nectarines, Pears, Plums
Summer Vegetables: Artichokes, Broccoli, Carrots, Corn, Cucumber, Peppers, Tomatoes, Summer Squash, Eggplants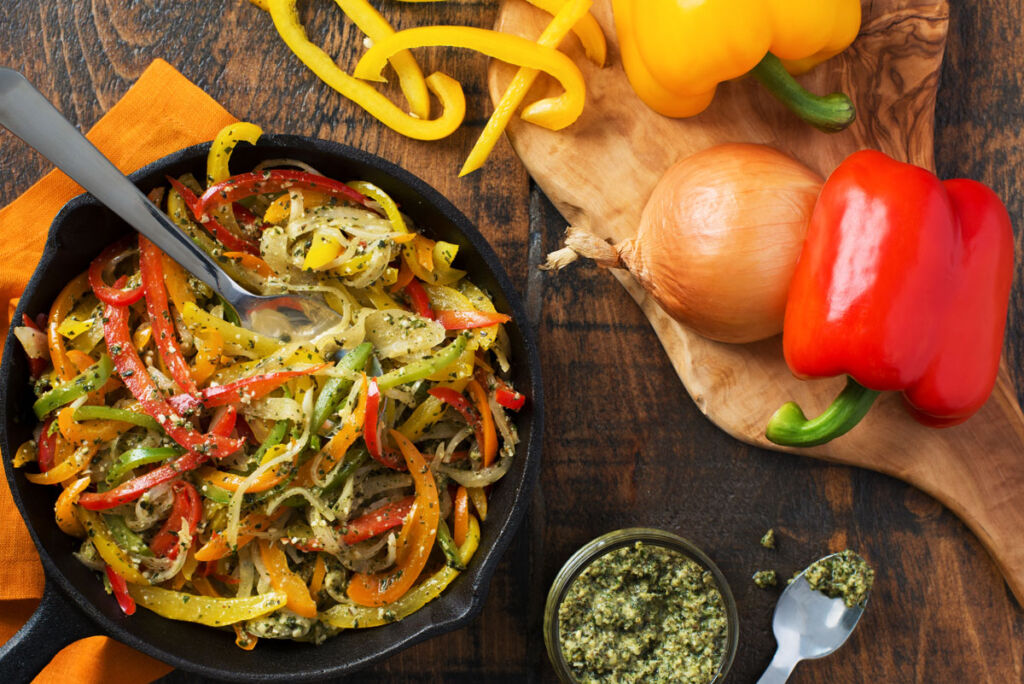 Fall
When the weather cools back down again, new crops sprout into season, making way for dishes that bring you the cozy familiar feeling of fall. Combining autumn flavours with traditional pastas and gnocchi gives room for creativity and unique dishes that will excite your new and returning customers.
Fall Produce: Artichokes, Pumpkin, Cauliflower, Brussel Sprouts, Onions, Crab Apples, Swiss Chard, Celery and more.
Try making a pumpkin puree to pair with Olivieri® 3 Formaggi Rainbow Tortellini for a colourful and unique menu item. Or bake gnocchi and brussels in our Olivieri® Pesto with Almonds sauce that adds the perfect complimentary hint of nuttiness to your dish.
Year-round
With the help of greenhouses, there are a few ingredients that you can get year-round that will consistently be fresh and up to the quality that your dishes deserve such as mushrooms, peppers and tomatoes. Ingredients like these give you the ability to keep classic options on the menu year-round such as a Ravioli dish with mushrooms, made with our Cheese Ravioli and Creamy Alfredo Sauce.
Change up your menu to add dishes with ingredients that change with the seasons. Using seasonal ingredients helps keep variety on your menu, saves costs, allows for more sustainability, and elevates the quality of your dishes to a noticeable level.