For customers who would prefer a lighter dish, pasta salads are a great option. For restaurants, this means it is worth having them on the menu. They are easy to prepare, take minimal time or training to do so, and the range of colourful ingredients they can include is an opportunity to serve something visually appealing.
With Olivieri®, you'll find everything you need to make top-quality pasta dishes for your customers. Read on as we guide you through the ins and outs of preparing pasta salads.
Pasta Salad Essentials
When creating a pasta salad, it is important to consider the following:
Base
Our fresh pasta can be used as a base, as can our fresh potato gnocchi as an alternative.
Mix-ins
Different customers have different dietary preferences. The mix-ins for a pasta salad can be easily customized to meet someone's requirements, by simply adding or removing specific ingredients.
Dressings
In pasta salads, it is better to use dressing that is light but flavourful, such as a zesty vinaigrette or a thin style of mayonnaise. Our range of pesto sauces provide a number of other options that make this popular sauce stand out among the typical regular versions.
Toppings
Toppings such as grated Parmesan, freshly torn herbs, or chopped nuts, can add texture, colour, and charm to a dish. Including them in pasta dishes is a simple way to elevate your menu.
Now that we've looked at some of the pasta salad essentials, let's go a step further with recipe inspiration. Now is the time to find out how to take your pasta salad to the next level.
Best Pasta Variety for Pasta Salads
When choosing a pasta type for a pasta salad, we recommend opting for short shapes that can hold onto the dressing and mix-ins. Our 3 Formaggi Tortellini, 3 Formaggi Rainbow Tortellini, and Cheese Cappelletti are excellent options as the folds of stuffed pasta will cling onto the flavours and textures. These pasta shapes are also flavourful on their own, making them a great addition to the salad.
3 Formaggi Tortellini
A delectable blend of three authentic Italian cheeses, including ricotta, Romano, and Parmigiano Reggiano, encased within a pasta dough made of durum wheat semolina, eggs, and water, guaranteeing consistent quality with each bite. These fresh frozen 3 Formaggi Tortellini are not only versatile, but also time-efficient, making them an excellent option for various traditional dishes, such as Tortellini in brodo, pasta salads, and hot menu items. To further enhance the flavour, consider pairing tortellini with one of Olivieri®'s sauces.
3 Formaggi Rainbow Tortellini
Olivieri® 3 Formaggi Rainbow Tortellini are made with nutrient-rich ingredients like spinach, beets, and tomato, resulting in a visually striking rainbow of colours and flavours. These vibrant tortellini are ideal for use in traditional broths, pasta salads, and main courses, providing excellent versatility and convenience. Moreover, they can be paired with a wide range of Olivieri® sauces. Incorporating this colourful variation of Tortellini into your dishes will not only elevate their nutritional value, but also their aesthetic appeal.
Kid's Menu Tip: Rainbow Tortellini is a great option for children – even the pickiest kids love cheese pasta and colourful plates!
Cheese Cappelletti
Olivieri® Cheese Cappelletti, a larger-sized tortellini, is an excellent choice that can be featured in an array of main menu items. The pasta dough is skillfully crafted from durum wheat semolina, eggs, and water, and fashioned into the shape of a hat (Cappello). It is then filled with our blend of ricotta, Romano, and Parmigiano cheeses, resulting in a delectable pasta that will undoubtedly satisfy your customers.
Fresh Potato Gnocchi
Additionally, Olivieri® Fresh Potato Gnocchi are an ideal choice for pasta salads due to their ridges which hold onto every bit of flavour.
Crafted with premium quality ingredients, our gnocchi contains no artificial flavourings, ensuring a pure and delicious taste. The soft and tender texture of our gnocchi makes it an excellent pairing with various seasonings and a wide range of our sauces, providing versatility and endless possibilities. Incorporating gnocchi into your menu means more meal possibilities for a wider range of customers with different dietary preferences.
With these options, you can ensure that your pasta salad is both delicious and visually appealing. Now that you have a base, let's move on to the mix-ins!
Ingredients in Pasta Salads
To make the perfect pasta salad, achieving a balanced combination of flavours and textures is key. You can easily customize this dish by mixing and matching your preferred ingredients from a variety of options:
Vegetables: Broccoli, carrots, baby corn, cucumber, olives, onions, bell peppers, zucchini, halved cherry tomatoes, thinly sliced green onions
Proteins: Meats, poultry, seafood, or plant-based proteins
Legumes: Beans, chickpeas
Cheese: Shredded Parmesan, crumbled feta, fresh mozzarella
You can also opt for popular pairings. Additionally, Olivieri® 3 Formaggi Rainbow Tortellini offers an easy way to incorporate additional vegetables into dishes.
Menu Idea: Quickly toss together a Confetti Pasta Salad with colourful vegetables and our 3 Formaggi Rainbow Tortellini for an elevated menu item. Just follow these quick steps: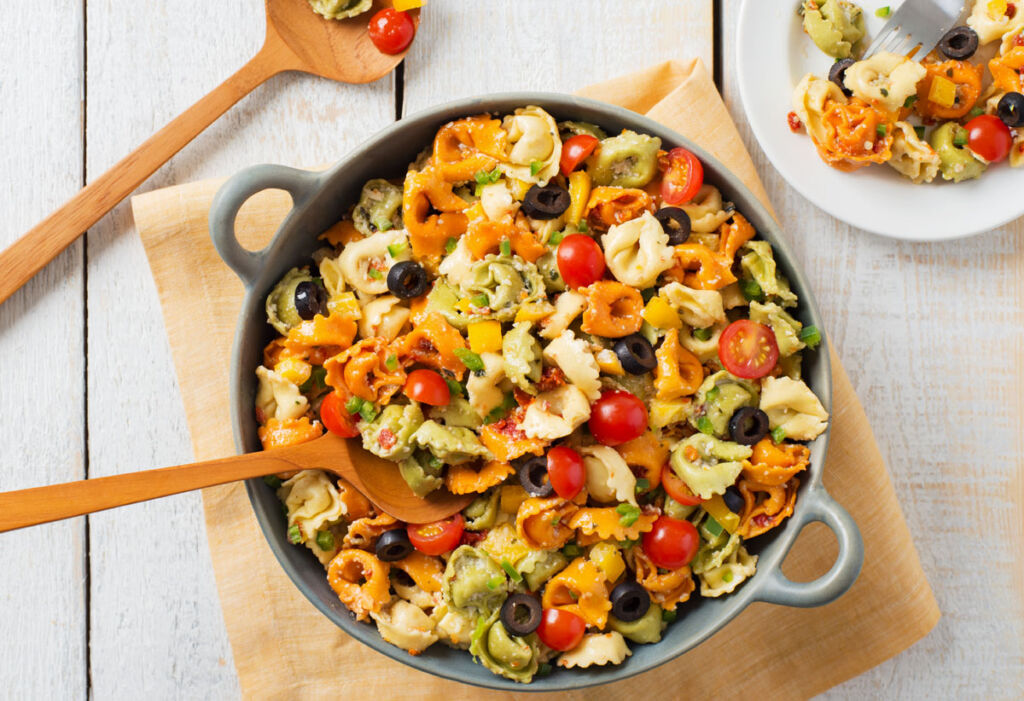 Boil Olivieri® 3 Formaggi Rainbow Tortellini until it reaches an internal temperature of 74ºC (165ºF), then drain, and rinse with cold water immediately to cool.
Toss with our Basil Pesto Supreme sauce, then set aside.
Next, mix together mayonnaise, red wine vinegar, basil leaves, halved cherry tomatoes, chopped yellow peppers, sliced black olives, and finely diced sun-dried tomatoes.
Toss the Tortellini and other ingredients together and serve with freshly grated Parmesan.
Menu Tip: Confetti Pasta Salad makes a great kid's menu item!
Menu Idea: Make a Greek Salad Tortellini for a flavourful option that brings the taste of the Mediterranean to your table. This salad is perfect for a starter or sharing plate in minutes by following these simple steps: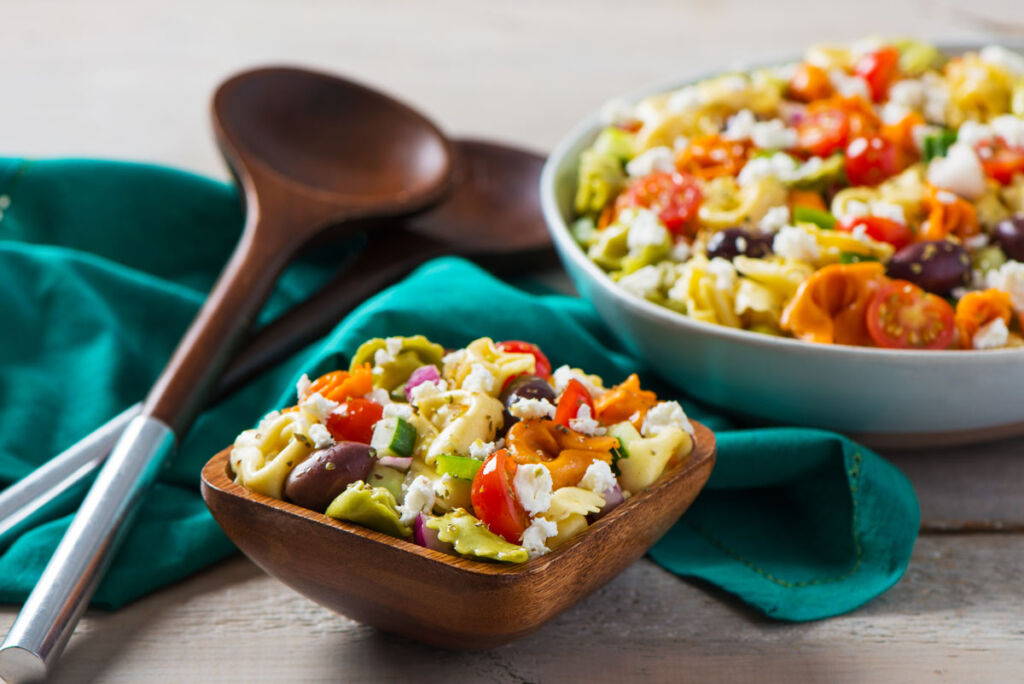 Boil Olivieri® 3 Formaggi Rainbow Tortellini until it reaches an internal temperature of 74ºC (165ºF), then drain, and rinse with cold water immediately to cool.
Next, mix together some olive oil, lemon juice, and oregano.
Then, add in diced cucumber, green pepper, red onion, cherry tomatoes, black olives, and feta cheese.
Finally, serve in a beautiful bowl for an eye-catching presentation!
Flavour Tip: Add some heat by sprinkling some crushed red pepper on top.
Gnocchi Salads
A unique addition to your side menu is well-worth considering: a gnocchi salad that blends two popular dishes, pasta salad and potato salad. Plus, with Olivieri® Fresh Gnocchi, you have a consistency that you don't have with typical house salads that are composed of fresh lettuce and vegetables. Our soft and fluffy Potato Gnocchi coated with a homemade tangy vinaigrette or our zesty Pesto Basil Supreme is an excellent choice for a refreshing side dish.
Make a Gnocchi Pasta Salad for an elegant yet kid-friendly meal! Just toss together some simple ingredients for a delicious starter that your guests will love. Follow these steps:
Make Gnocchi in advance. Bring Olivieri® Fresh Gnocchi to a light boil and Cook until an internal temperature of 74°C (165 °F) and drain.
Chill gnocchi in freezer or ice box.
Toss together gnocchi, halved multi-coloured cherry tomatoes, and bocconcini pearls in our Basil Pesto Supreme sauce.
Serve with fresh chives sprinkled on top.
Recipe Tip: For a greener variation, toss in a handful of arugula to add a peppery flavour and a splash of colour!
Green Salads with Pasta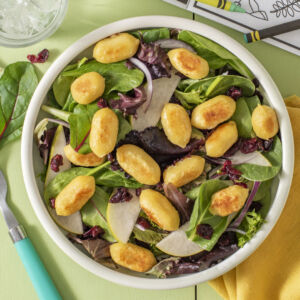 Greens and gnocchi complement each other perfectly, regardless of the ratio used.
Menu Idea: Why keep croutons stocked when you can sauté some gnocchi and use them as croutons instead? Make a Lemon Maple Gnocchi Salad for a fun twist on a citrus salad – your guests will love that satisfying crunch from the red onions and crispy gnocchi. Follow these simple steps:
Bring Olivieri® Fresh Gnocchi to a light boil and Cook until an internal temperature of 74°C (165 °F) and drain.
Combine greens like arugula, spinach and kale in a salad bowl.
Add in sliced pear and thinly sliced red onion.
Whisk together olive oil, lemon juice, maple syrup, Dijon mustard, grated garlic, salt and pepper.
Scatter in the warm gnocchi and top with cranberries.
Serve.
Tip: Offer table-side fresh cracked black pepper for an elevated touch.
Menu Idea: For a more balanced and satisfying meal, consider the Gnocchi Salad With Walnuts, which combines a 50/50 mix of light salad and hearty pasta. This dish features baby arugula, fresh vegetables, juicy ham, and gnocchi, making it a savoury yet refreshing option for your menu. Simply just follow these steps: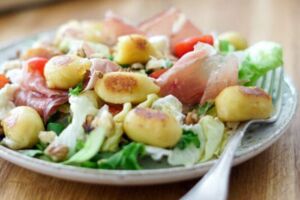 Prepare a dressing by mixing together olive oil, balsamic vinegar, lemon juice, salt, and pepper.
Cook our Olivieri® Fresh Gnocchi in a pan with butter or oil until heated through and golden brown.
Prepare salad by arranging baby arugula, adding in halved cherry tomatoes, warm gnocchi, mozzarella, chopped walnuts and cured ham.
Add in dressing, top with basil leaves, and serve.
Given the versatility of pasta salads, both in terms of creating meal options and meeting dietary preferences of customers, they make an excellent option for menus. At Olivieri®, we strive to provide the best ingredients and menu options possible.