Originating all across Italy, with flavours and techniques that vary from family to family, pasta sauces are rooted in tradition and crafted in the home. From classic tomato sauces to creamy alfredo, each sauce has unique qualities that allow you to create a timeless favourite or something unique to your customers. Capture the essence of Italian cuisine with our selection of premium Olivieri® bulk sauces. Your customers will be able to taste the quality and sense the authenticity – as if your sauces were cooked by your most experienced chef.
Buying our frozen sauces in bulk to use in your kitchen will save you time, space, money, and training while securing consistency in every dish. With a vibrant array of sauces that pair perfectly with our Individually Quick Frozen Pasta or our fresh Gnocchi, the menu possibilities are endless.
Let us show you how our sauces can help you build a high quality menu that will keep your customers coming back for more.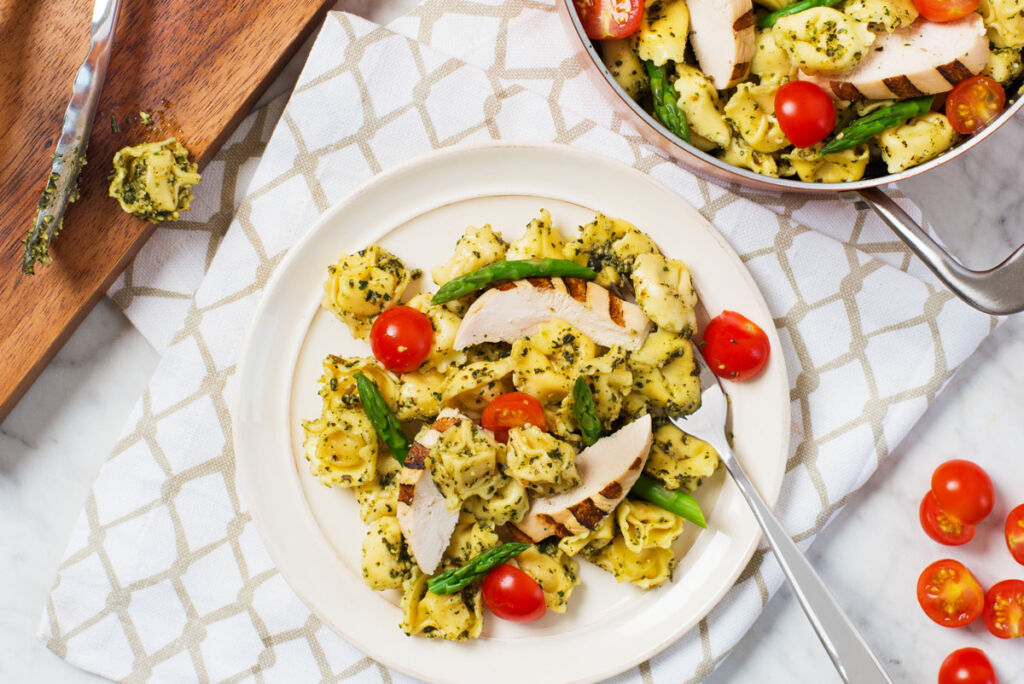 Olivieri® Frozen Sauces Benefits
With our selection of cream, pesto and tomato based sauces, chefs can get creative or keep it simple in your kitchen. Learn how our premium sauces can benefit your operations.
Save Time
Building sauces from scratch can be time consuming and leave room for error and inconsistency. Olivieri® pasta sauces have a consistent texture throughout each bag, and still give your food that quality taste without taking the extra time to mix up an array of sauces. This will save your kitchen staff time, stress and hassle at the end or beginning of their shifts, freeing up more time to focus on delivering delicious meals to each customer.
Save Space
Storing the ingredients to make your own sauce can take up a lot of valuable storage space. Our Pesto sauce has 6 individual packages of sauce per box, and our Tomato and Cream sauces have 4 individual bags of sauce per box, giving you a large quantity that can be stored easily.
Easily Add variety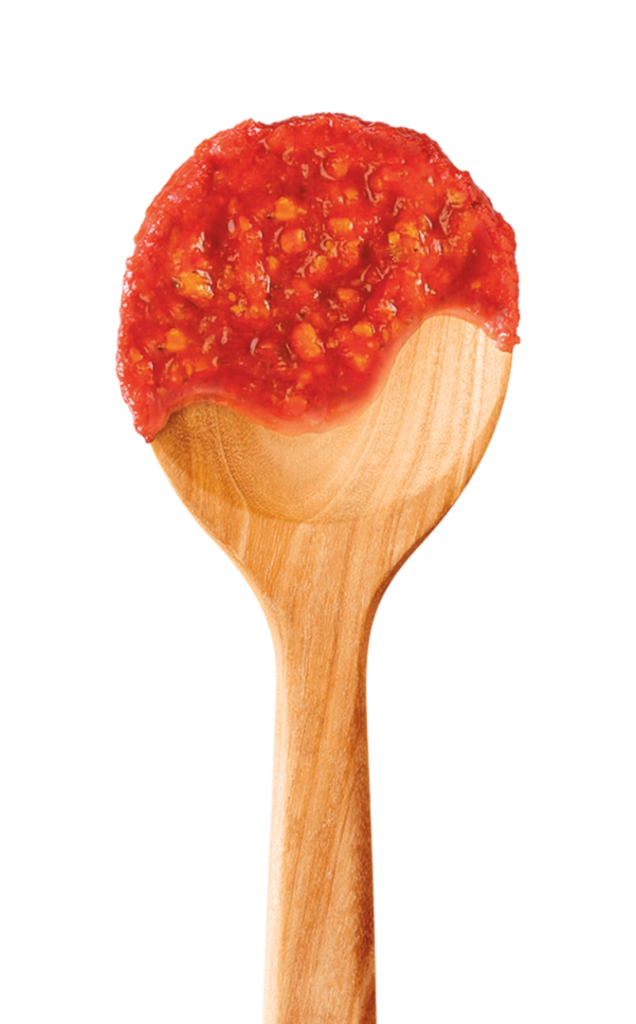 Because making your own sauce can be time consuming, require extra kitchen staff training, and take up extra space, having a plethora of house made sauces is not very practical. With our frozen sauces, you can have a variety of sauces available on-hand without requiring prep time from the kitchen staff. Simply grab bags of sauce from the freezer as needed. Keep a classic Gourmet Tomato Sauce for traditional spaghetti, or offer your customers something more unique with our Roasted Red Pepper Pesto. Olivieri® allows you a range of possibilities in the kitchen.
Versatility
Not only can our sauces be used in traditional pasta dishes, but they can also be used for cannelloni (manicotti), lasagna, on pizza, as a dipping sauce, in wraps and sandwiches, in a soup, or even as a marinade for vegetables and protein! Try using our Gourmet Tomato Sauce as a dipping sauce for garlic bread, or our Basil Pesto Supreme as the base of a simple Mediterranean inspired pizza.
Sauce Pairings
With our premium sauces, it is easy to create a number of distinct menu items with just a few ingredients. Crafted in British Columbia, our sauces easily mesh with multiple ingredients and can all be used for more than one menu item. For that reason, choosing Olivieri® is a no-brainer.
Tomato Sauces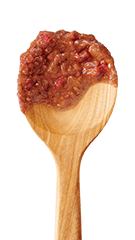 There really is nothing like a rich red sauce – one with the perfect balance of tomatoes, garlic, basil, olive oil and the right amount of salt. This collection of ingredients is the foundation of many international favourites.
Made with lean ground beef, typical Italian herbs, our Roman Meat Sauce offers an authentic taste that pairs nicely with a number of pastas. As the sauce is chunkier and heavier, it goes well with pasta shells or tube-shaped pasta like our Cheese Cannelloni.
Kids Menu Tip: Pair this sauce with lasagna or a basic spaghetti noodle for a quick and easy kids menu item that they will love!
You can't go wrong with having our Gourmet Tomato Sauce stocked in your freezer. Made with juicy tomatoes that give the sauce a crave-worthy texture, this marinara-like sauce pairs easily with anything from spaghetti to our 3 Formaggi Tortellini. Use it as a dipping sauce or spread on a pizza with mushrooms, cheeses and your best Italian Sausage.
Cream Sauces
The thicker sauce makes it perfect to cling to longer and broader long-cut pastas like linguini. With little hints of sweet and savoury notes, these sauces even go well with our fresh gnocchi for a delicious main course or side dish that even the kids will love.
A full bodied cream sauce made with a blend of Parmesan and Gorgonzola cheese, our Alfredo Sauce is perfect for Chicken Alfredo or with fettuccine noodles. Try pairing with our Spinach and Cheese Cannelloni for a rich and filling dish that will keep your customers coming back!
Made with Parmesan and Romano cheese, our Creamy Alfredo Sauce will add a thick layer of comfort to your dishes. Try pairing with our fresh Potato Gnocchi for an indulgent meal your customers will come back for.
Pesto Sauces
Spreading from the city of Genoa Italy, all the way to the shelf of your local grocery store, pesto is a delicate oil-based sauce that adds a herby touch to many meals. Pesto is traditionally made with olive oil, basil, garlic, pine nuts and Parmesan. However, there are many variations and adaptations that can be made to create the perfect sauce for your dish.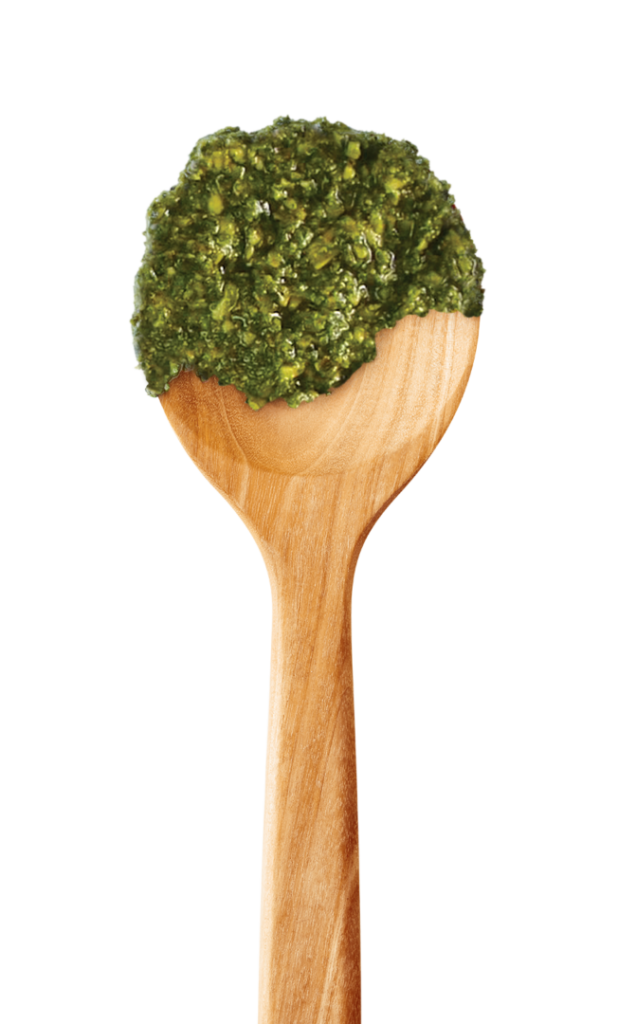 Made with a beautiful blend of Olive Oil, fresh Basil, Parmesan and Romano Cheese, our Basil Pesto Supreme is light with the flavours of herbs and perfect for pastas, salads, and more. Alternatively, use our Pesto with Pine Nuts for an equally herby sauce with a nutty hint. Combine with our 3 Formaggi Rainbow Tortellini, or mix in with the Potato Gnocchi for high quality meals that can be done in minutes.
Delicious on a Mediterranean style chicken pizza or in a salad with colourful veggies, our Sundried Tomato Pesto sauce is unique and nicely balanced with herbs and tang from the sundried tomatoes. Create interesting dishes and add an extra element that will keep your menu exciting.
Try another unique spin on the classic pesto with our Red Pepper Pesto sauce. The roasted red peppers offer a little bit of smoky char, contrasting nicely with the brightness of the basil. Use this sauce on sandwiches, salads or with seafood pasta for a creative plate your guests will love.

Whether you're making classic spaghetti and meatballs or finding new ways to get creative with Italian inspired dishes in your restaurant, Olivieri® frozen bulk sauces are a perfect way to help save time in the kitchen and offer consistency in every dish. Use our sauces in pizza or pasta, in salads, for dipping, and whatever else springs to mind! Because of the versatility of our sauces, you can use them for many different menu items and in various ways. That way, you can keep your ordering list shorter while saving space, money and time.