Including traditional Italian meal options on your menu comes with a range of benefits. At Olivieri® Foodservice, we will explore those advantages and share our culinary suggestions.
Popularity and familiarity: Traditional Italian dishes are among the most popular in the world. Most customers will already know pizza, pasta, risotto and gnocchi dishes. This makes them a safe choice when it comes to satisfying clientele.
Adaptability: Many traditional Italian foods can be mixed and matched with other food types to create original dishes, or to cater to specific dietary requirements. This gives restaurants the ability to appeal to a broader scope of people.
Flavour: Italian food is diverse in flavours. While recipes often include traditional ingredients such as tomatoes, basil, garlic, and olive oil, such ingredients can be used in different combinations, and with additional ingredients, to create various unique dishes.
Comfort: The recipes that large numbers of people are most familiar with – paste, pizza, lasagna, meatballs, and soups – are often considered comfort foods. Apart from being hearty dishes served at a warm temperature, they also are known to evoke feelings of nostalgia among those who associate them with moments from their past.
Family-friendliness: Traditional Italian food is widely regarded as family-oriented for a couple of reasons. Aside from the fact that families spending time together is a central part of Italian culture, the dishes themselves can be served in large portions for the purpose of sharing and experiencing the meal together.
Cannelloni (Also Called Manicotti)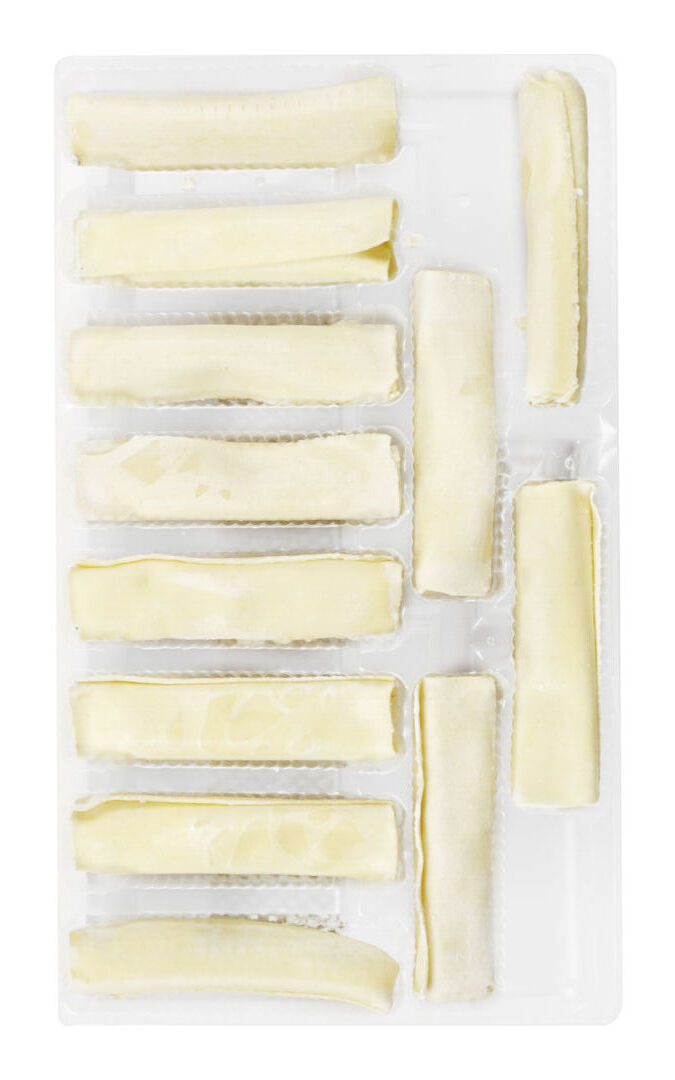 Cannelloni is popular all over Italy, particularly in Campania and Sicily. The pasta is shaped into large tubes and filled with a variety of ingredients, including spinach, cheese, and meat. It is then normally baked in a sauce. The word 'cannelloni' is Italian for 'large reeds' which describes the pasta's shape. Here are some reasons it makes a beneficial menu item:
It comes with different fillings meaning it can be served to customers with different preferences or dietary choices.
Easy to store and quick preparation time.
Can be pulled from the freezer in portioned rolls, making it easy for restaurants to control portion sizes and reduce food waste.
It is a well-known dish, making it a reliable option for customers.
Olivieri® Foodservice offers restaurants a way to save time and money with its cannelloni products, each of which come with their own fillings and distinct flavours. Stuffed pasta means no time is needed for adding extra ingredients to the pasta. Here are the products we offer:
Cheese Cannelloni – Our Cheese Cannelloni is made from premium IQF pasta tubes filled with a mixture of ricotta, mozzarella, and parmesan cheeses. The filled pasta tubes can then be baked in a tomato or creamy sauce and finished with a sprinkle of grated cheese. This makes a vegetarian-friendly dish that can be accompanied by additional meal ingredients.
Spinach & Cheese Cannelloni – Our Spinach & Cheese Cannelloni is just as cheesy but with the addition of leafy greens and a pop of colour. This is a popular variation of the dish that comes with some other benefits. Spinach has well-known nutritional properties and works well in creating a balanced texture and flavour when put together with cheese. Greens are also increasingly popular foods among consumers.
Beef Cannelloni – This pasta offers a different flavour from the two previous types, one that can be enjoyed by meat enthusiasts. Beef is a popular meat that pairs well with numerous different sauces, particularly when it is used as a filling for pasta tubes. Many regard meat-filled pastas as a comfort food.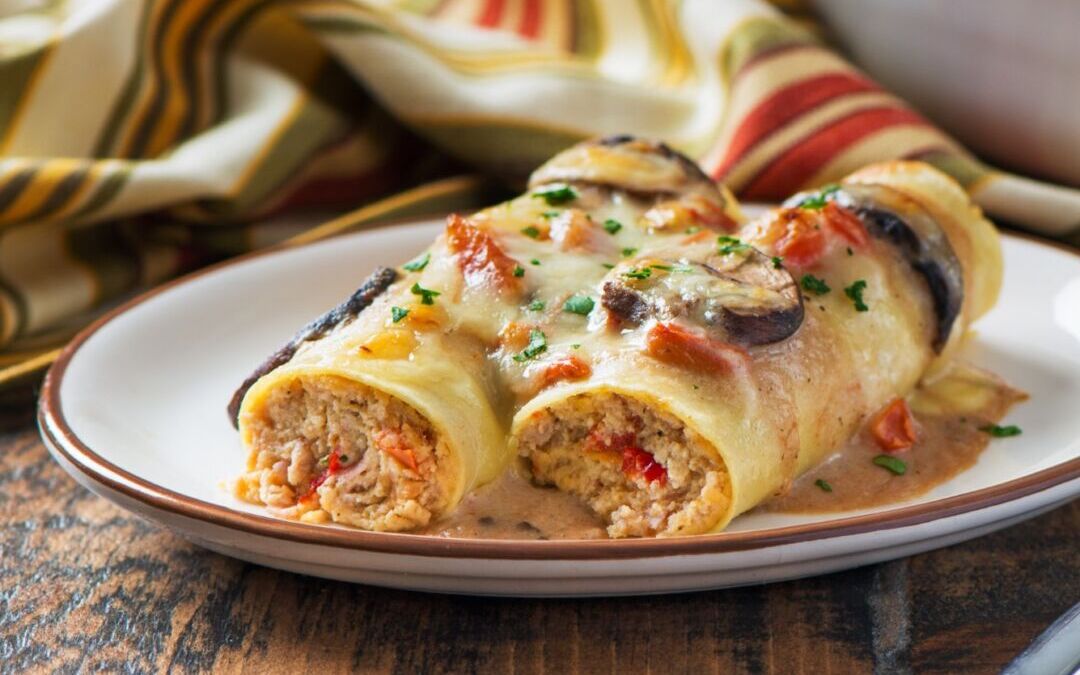 Menu Idea: Spinach and Cheese Cannelloni with Mushrooms and Alfredo Sauce is vegetarian-friendly and is sure to be a hit. We suggest using our Classic Creamy Alfredo Sauce with this dish for the ultimate creaminess and rich comforting texture. Follow these steps:
Preheat oven to 190ºC (375ºF).
Place our Creamy Alfredo Sauce at the bottom of a tray, place frozen cannelloni on top, cover with more sauce, sliced cremini mushrooms, and diced plum tomatoes.
Cover tray and bake until internal temperature is 74ºC (165ºF).
Top with fresh mozzarella and serve.

Plating Tip: Serve with fresh basil leaves on top for a pop of colour.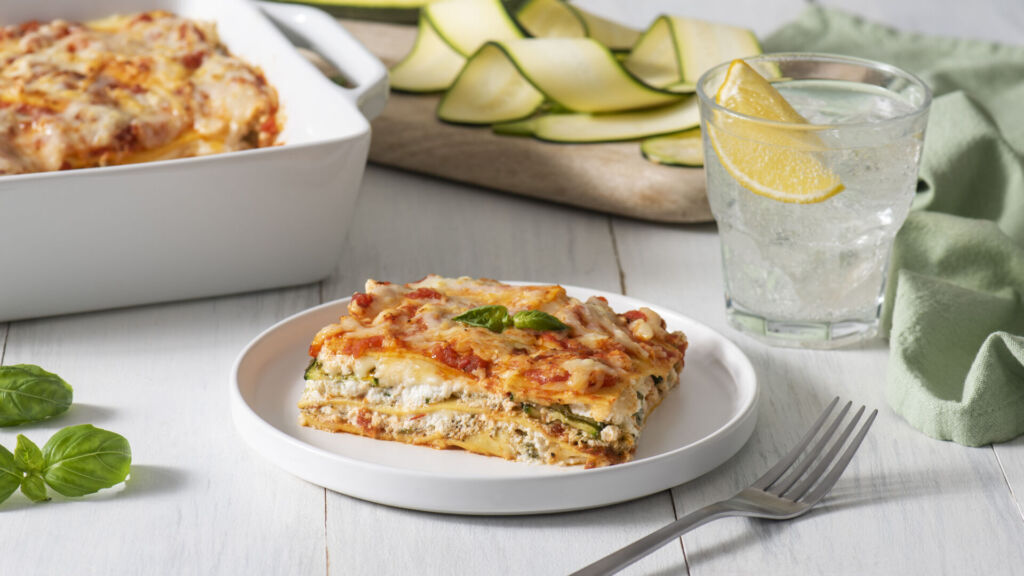 Lasagna
Lasagna is widely favoured by restaurants due to its adaptability, comfort factor, and simple preparation. Its wide appeal to various tastes and preferences makes it a go-to option for catering to a diverse clientele. Here are some different types of lasagnas you can include on your menus, as well as some of our products you can use for preparing them:
Roasted Zucchini Lasagna – a meat-free take on classic lasagna which includes zucchini, and is able to meet the needs of vegetarian customers. Just follow these steps for a delicious dish:
Thaw Olivieri® Lasagna Sheets.
Preheat oven to 218º C (425ºF).
Marinate slices of zucchini with Olivieri® Basil Pesto Supreme.
Bake until golden and tender, then set aside.
Spread some of our Gourmet Tomato Sauce on the bottom of the lasagna pan.
Layer Lasagna Sheets, tomato sauce, roasted zucchini, ricotta cheese, and mozzarella cheese in a baking dish. Repeat until the lasagna dish is full.
Top with more tomato sauce, mozzarella and Parmesan.
Cover lasagna and bake.
Slice and serve.

Recipe Tip: Replace the zucchini with eggplant for variation!
Old Fashioned Lasagna – requires very little prep time yet achieves a traditional feel with classic and comforting flavours. Ready to eat in a few steps:
Thaw out our Frozen Olivieri® Lasagna Sheets.
Sauté onion, carrot, and celery until tender.
Add in Ground beef and sauté until browned.
Pour in our Roman Meat Sauce and plum tomatoes, simmer.
Spread sauce on bottom of a deep pan and layer Lasagna Sheets, sauce, and ricotta cheese. Repeat layers until pan is full.
Top with the rest of the sauce, mozzarella, fresh Parmesan and whatever other cheese you desire!
Bake, and Serve.

Flavour Tip: Add a hint of spice to the sauce with some crushed red chili flakes.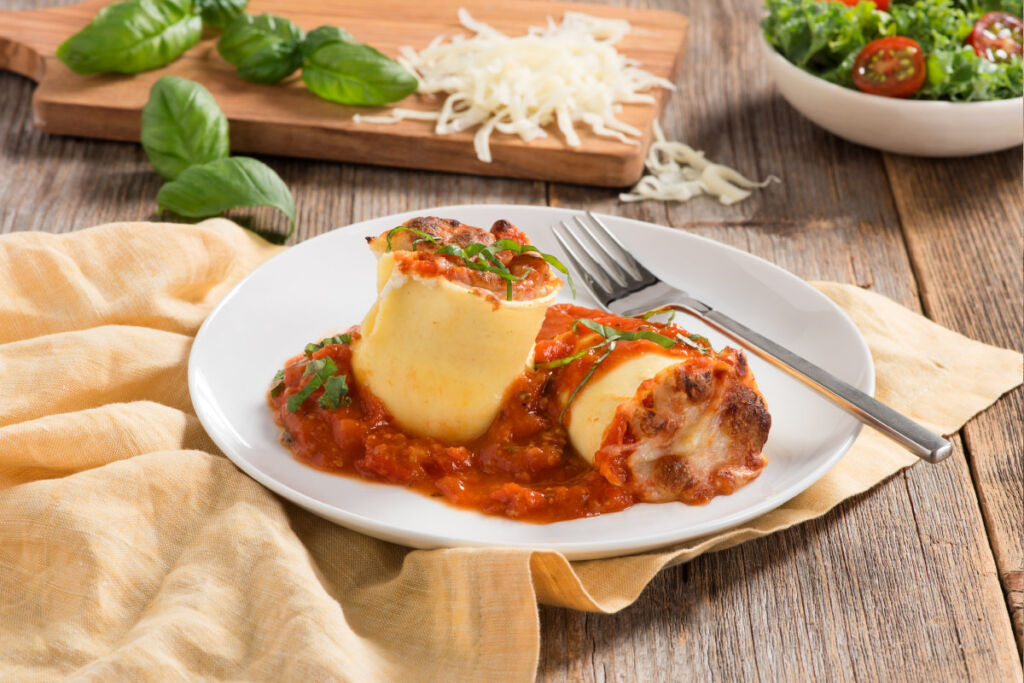 Lasagna Roll-Ups with Roman Meat Sauce – an alternative version of lasagna that has the advantage of being ready to serve right after baking as no resting time is needed. These rolls make unique appetizers on an otherwise traditional Italian menu. Just follow these steps:
Thaw Lasagna Sheets
Preheat oven and grease a muffin pan. Spoon in some Roman Meat Sauce into each cup.
Stir together ricotta, mozzarella, salt and pepper. Then spread cheese mixture onto each individual lasagna sheet, roll up sheets, cut into thirds, and place the individual rolls in the muffin tin. Fill with remaining sauce, sprinkle mozzarella on top.
Bake and serve!

Presentation Tip: Top with fresh basil leaves for that added chefs touch.
Lasagna Sheets Pre-Cooked
Olivieri® Lasagna Sheets provide a hassle-free and time-saving solution for creating high quality lasagna at your establishment. Pre-cooked and ready to use right out of the package, these sheets make it effortless to add a variety of delicious lasagna options to your menu. Simply layer with cheese, meats, vegetables, and your choice of sauces for a delicious meal every time.
Ready to use: saving time and effort in the kitchen. This can be especially beneficial for restaurants that have a high volume of orders and need to serve dishes quickly.
Consistency: our lasagna sheets ensure that each dish is cooked evenly and consistently, resulting in a uniform texture and taste.
Shelf-life: 455 days, a longer shelf life than raw pasta sheets, making them a practical option for restaurants to keep on hand for busy periods.
No Boiling Required: our sheets do not require boiling, which saves time and reduces the risk of over-cooking the pasta, resulting in a more tender and flavorful lasagna.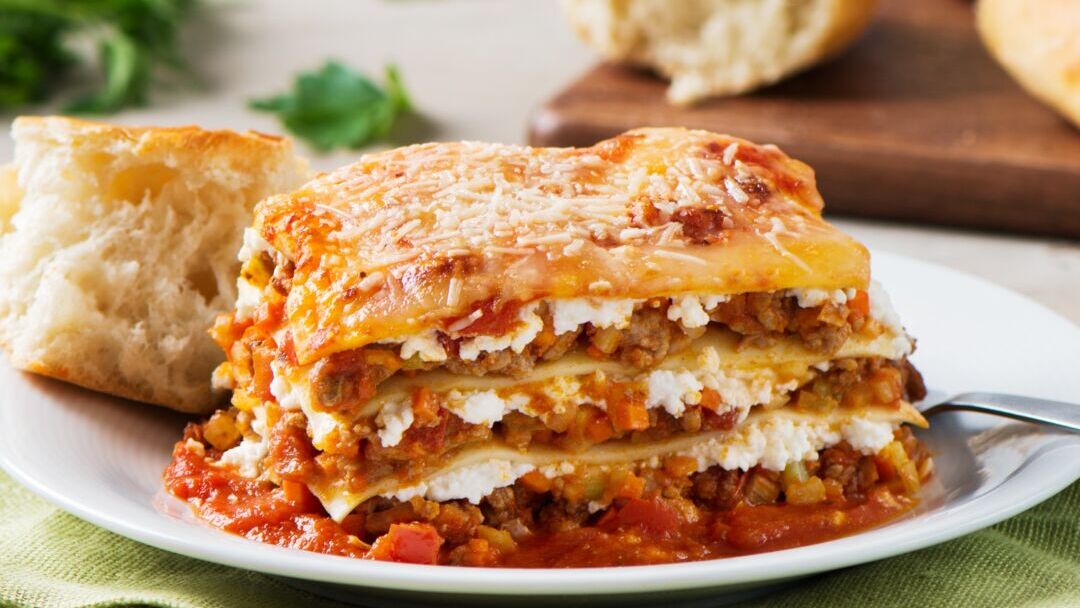 Roman Meat Sauce
Olivieri® Roman Meat Sauce is a classic-style Italian sauce made from a combination of juicy tomatoes, succulent ground beef, and a blend of classic herbs. This sauce has an old-world flavour that can be served over pasta or used as a spread for meats. With its simple preparation method, this highly versatile sauce offers numerous benefits for restaurants.
Quick and easy to prepare, making it a great option for busy restaurants. No need to train kitchen staff to make sauces from scratch.
Can be used in various dishes. Examples include pasta dishes, as a pizza base, in lasagna, in spaghetti, in casseroles, with rice, with potatoes, and more.
Appeals to customers seeking traditional Italian flavours.
Boasts a distinct taste, making it different from typical tomato sauces in other restaurants.
See our tips and tricks for making the perfect lasagna here.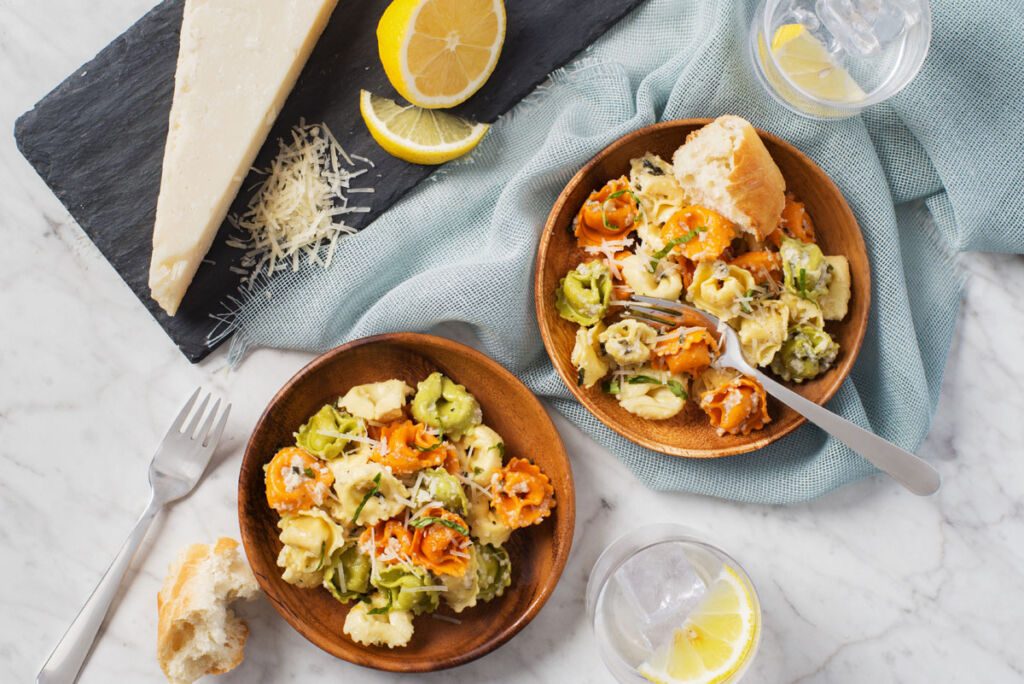 Tortellini
Tortellini is a filled pasta, stuffed with different ingredients, usually cheese, meat or vegetables. It is a traditional Italian dish that pairs well with various different sauces and ingredients. It can be used as a main course or in a side dish, and adapted to meet specific dietary preferences. Perfect this pasta plate by checking out How to Cook Tortellini With Menu Hacks. For example, cheese tortellini is a popular choice for vegetarians, while meat-filled tortellini is a hearty option for meat-lovers.
Our Olivieri® 3 Formaggi Rainbow Tortellini offers rich taste and nutritional properties while combining well with juicy tomatoes and spinach, along with a creamy three-cheese filling.
Menu Idea: Rainbow Tortellini with Basil Pesto Supreme can be prepared in no time, just follow these steps:
Blend lemon zest, juice and Basil Pesto Supreme
Bring Olivieri® 3 Formaggi Rainbow Tortellini to a light boil and Cook until an internal temperature of 74°C (165 °F) and drain.
Toss tortellini with pesto.
Garnish with Parmesan cheese and chopped basil and serve.

Tasty Tip: Sprinkle in some pine nuts for an added crunch.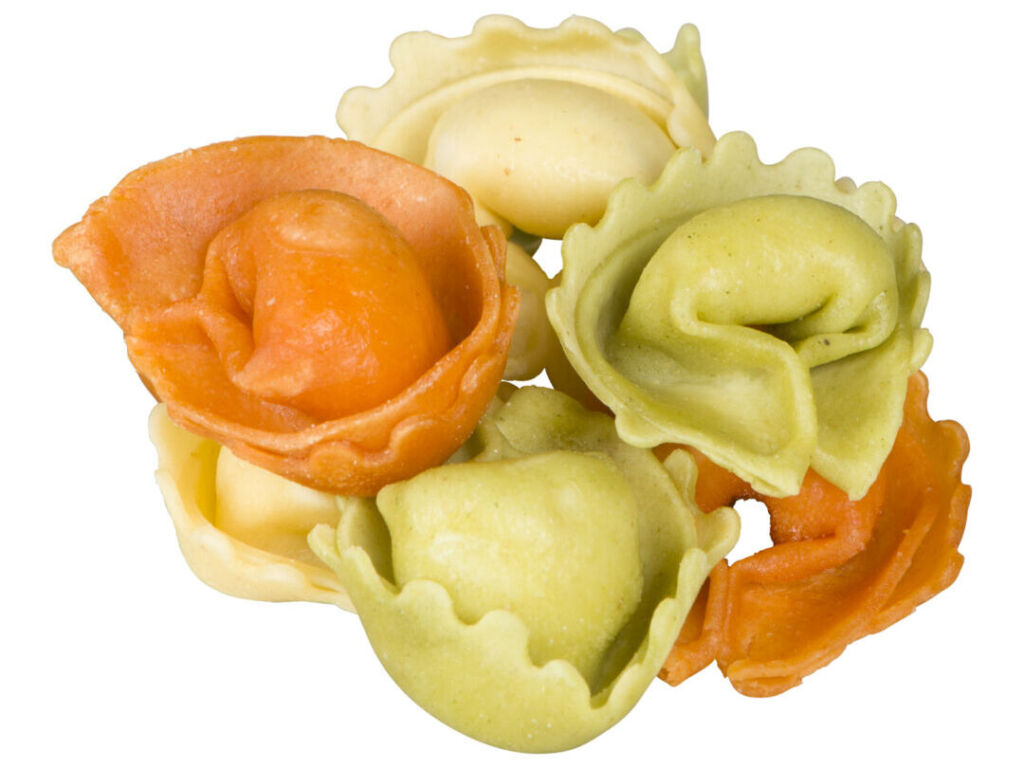 3 Formaggi Rainbow Tortellini
Made with premium ingredients such as durum wheat semolina, eggs, and water. 3 Formaggi Rainbow Tortellini are enriched with greens like spinach, beets, and tomato to create a visually-appealing rainbow of colours. These fresh frozen tortellini offer unparalleled versatility and convenience, making them the perfect choice for traditional "Tortellini in brodo," refreshing cold pasta salads, or hot menu items. Furthermore, they can be served with a range of different sauces.
Shelf life 455 days.
Time-saving. They are ready to cook, only require a few minutes of boiling.
Eye-catching colours help to make excellent presentation.
Pairs well with numerous different sauces.
Pesto
Whether preparing cannelloni, lasagna, or tortellini, there is one sauce in particular that has versatility and popularity; it will add elegance to any dish – that's the beauty of pesto.
Originating from the Genoa region of Italy, Pesto is a traditional Italian sauce made from basil leaves, pine nuts, garlic, Parmesan cheese, and olive oil. Although it is often used in pasta dishes, it is highly versatile, enabling it to also be used for sandwich spreads, bruschetta, pizza, lasagna and more.
At Olivieri®, we offer a range of different types of pesto sauce that you can incorporate into various traditional menu items. Each kind of pesto sauce products offer their own unique style and flavour.
The strong and fresh flavour of pesto can be used in various dishes
It is quick and easy to prepare, and requires no special training
As a traditional Italian sauce, it has a long history and helps to create a classic and authentic taste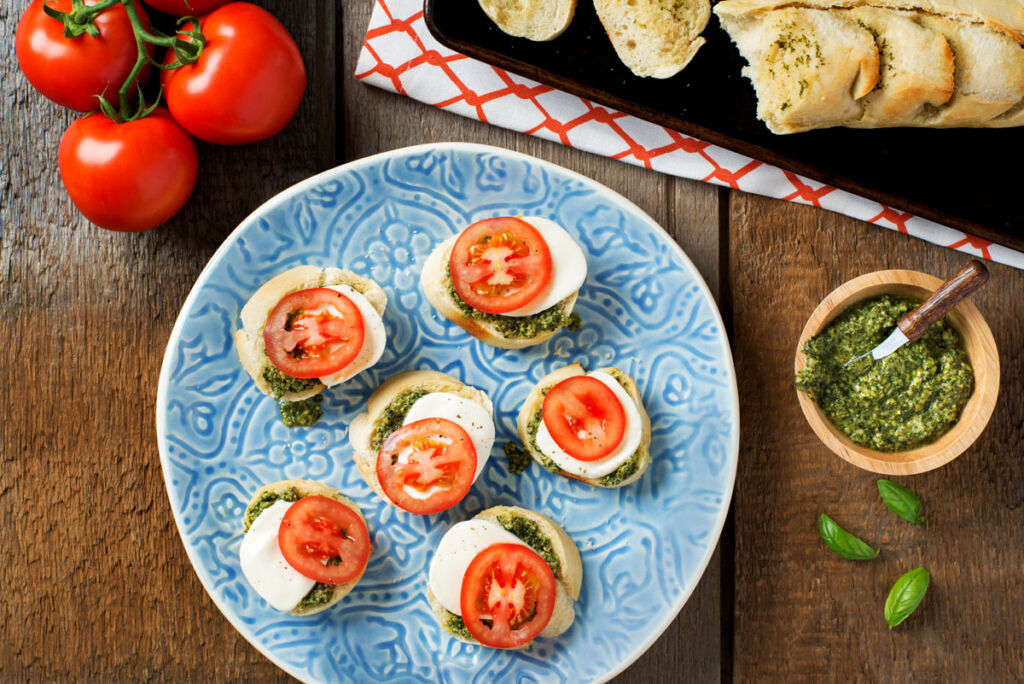 Pesto Supreme – our elevated style of one of the most versatile sauces around the world.
Pesto with Pine Nuts – This takes a traditional Genovese sauce — a menu hit — to the next level with extra nutty notes.
Sundried Tomato Pesto – Classic flavours combine with the extra sweetness of sundried tomatoes.
Red Pepper Pesto – A perfect and simple choice for pesto lovers with the irresistible addition of red peppers.
Pesto can also be used in starters.
Menu Idea: For example, make these Fresh Mozzarella & Tomato Crostini. It is a timeless dish, made up of just a few simple ingredients, none of which require any cooking. Simply just follow these few steps for a delicious appetizer:
Bake slices of warmed garlic bread on a baking sheet until toasted.
Spread Olivieri Basil Pesto Supreme evenly on each slice.
Top each piece with mozzarella, a slice of tomato, and a few leaves of basil.
Flavour Tip: Drizzle a balsamic reduction over slices at the end.
With our range of products, you can incorporate traditional Italian dishes into your menu in ways that provide your restaurant with numerous benefits. At Olivieri®, we are committed to helping you achieve the best results.