Tortellini is a type of pasta that is characterised by its unique shape – a ring-like form created by wrapping dough around a flavourful filling. The name "tortellini" is derived from the Italian word "torta", which means round cake or pie. Originally from the Emilia region of Italy, it is a popular menu item around the world.
Traditional tortellini was known to be filled with meat, cheese, egg, or nutmeg, and served in broth. However, its versatility means it has been, and continues to be, adapted to form a range of different recipes. Here are some reasons that tortellini plates thrive as menu options:
Recognizability – Customers often seek dishes they are familiar with, and as a popular Italian dish, tortellini is well-known.
Consistency – Chefs can expect the same quality from box to box, so guests will get the same plate visit after visit.
Satisfaction – As a comforting dish, it is known to leave customers satisfied with their dining experience.
Of course, guests aren't the only ones who benefit from a tortellini-packed menu; kitchen staff will appreciate these advantages:
Quick and Easy – As high quality tortellini is filled and par cooked, they are ready-to-eat after just a few minutes of boiling, saving time in the kitchen.
Cost Efficient – Because Olivieri® Tortellini has a shelf life of 455 days, and can be pulled directly from the freezer in perfect portions for preparation, food waste is not a problem.
Versatile – Tortellini pair well with a large number of different sauces and ingredients to make dishes that are original while also remaining familiar.
Storage Efficient – Plus, our Olivieri® Foodservice tortellini offer 35 Servings per case which is 40% better yield than fully cooked options.
Olivieri® Tortellini Products
3 Formaggi Tortellini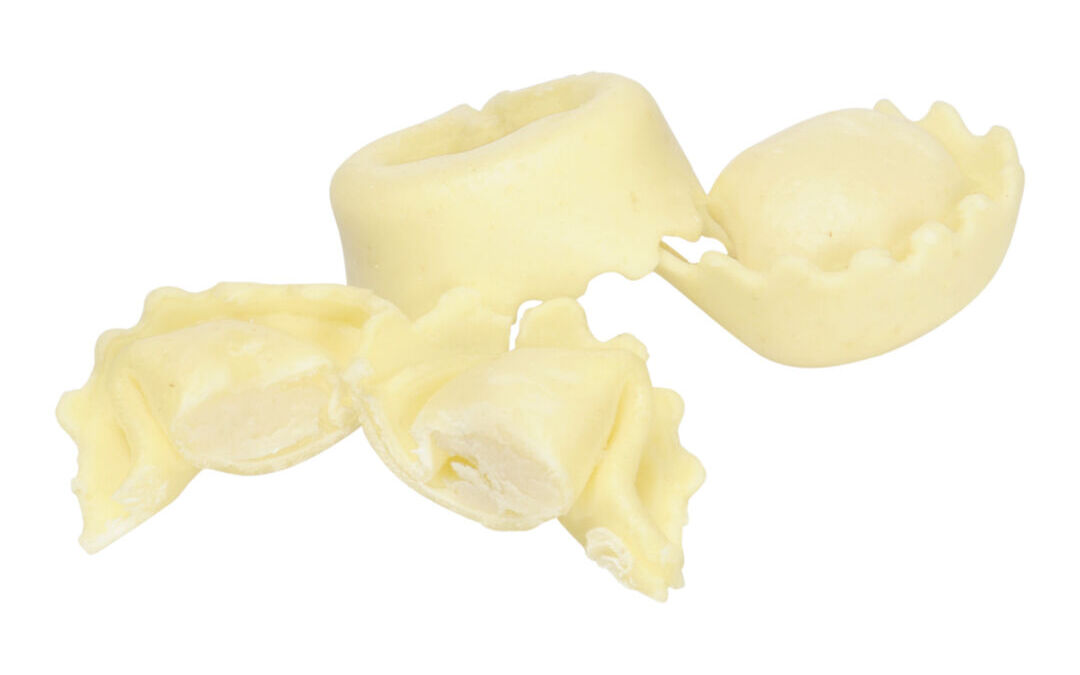 Olivieri®'s 3 Formaggi Tortellini boasts a robust blend of three Italian cheeses – ricotta, Romano, and Parmigiano Reggiano. These cheeses are enclosed within a pasta dough composed of durum wheat semolina, eggs, and water, ensuring consistent quality with every bite. These fresh frozen tortellini are versatile and time-saving, making them a great option for various traditional dishes such as Tortellini in brodo, pasta salads, and hot menu items. Elevate your dishes further by pairing the tortellini with one of Olivieri®'s various sauces.
3 Formaggi Rainbow Tortellini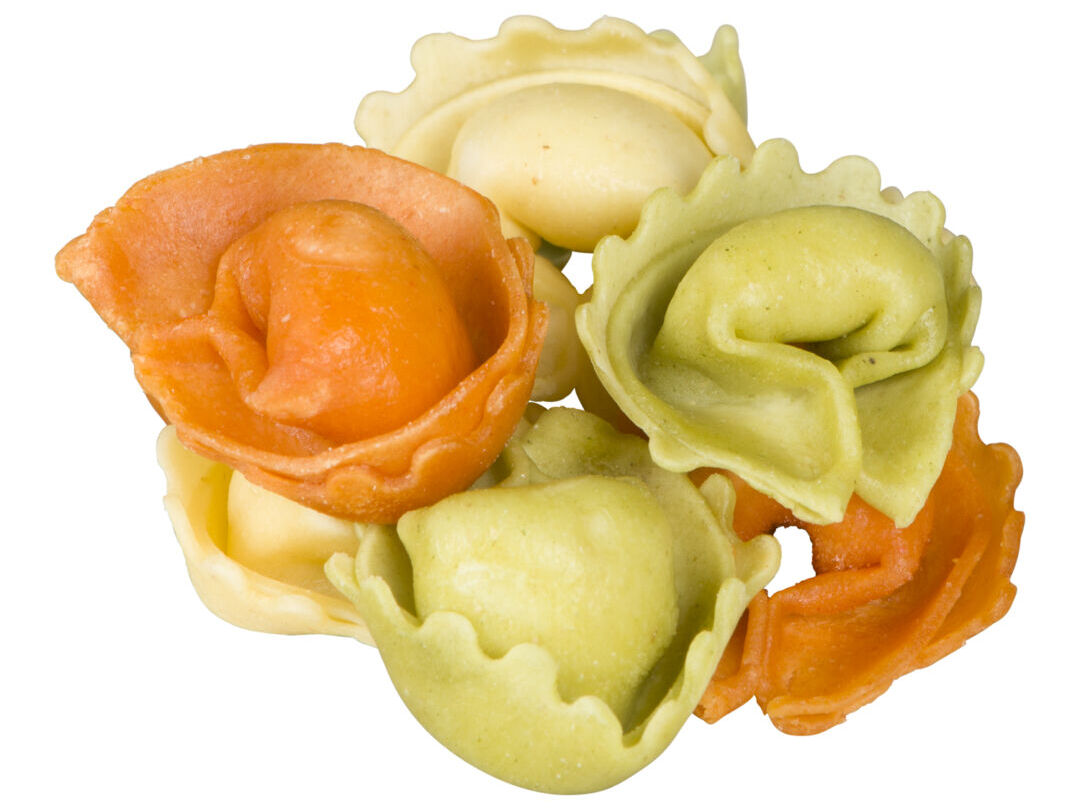 The Olivieri® 3 Formaggi Rainbow Tortellini are a delicious alternative option, crafted using additional nutrient-rich ingredients such as spinach, beets, and tomato. This creates a visually appealing rainbow of colours and flavours. Whether you're serving them in a traditional broth, a pasta salad, or a main course, these vibrant tortellini offer excellent versatility and convenience. They can also be paired with a broad range of Oliveri® sauces.
Kid's Menu Hack: Enriched with vegetables and colourful, rainbow tortellini are a great meal option for children.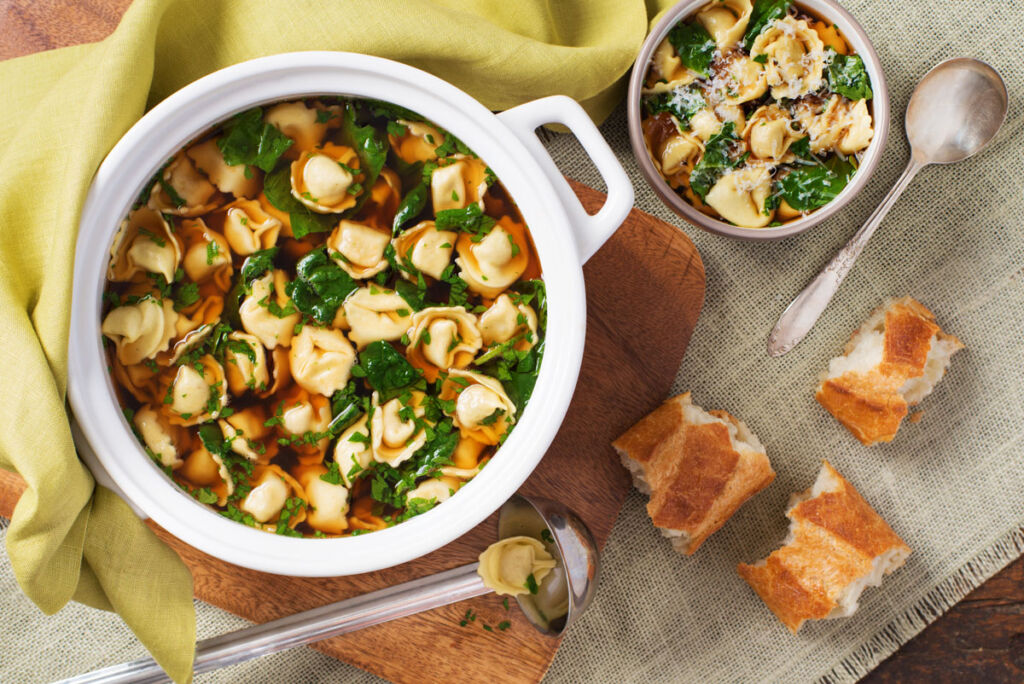 How to Cook Tortellini
To achieve the ideal texture when cooking fresh Olivieri® Tortellini, you'll need a few basic items: a pot, a stove, water, and salt.
Begin by filling a pot with water and bringing it to a boil. Then, add a generous pinch of salt to season the water.
Next, add the tortellini to the boiling water and let it cook for around 6 minutes at a gentle boil.
(Tip: Remember to stir occasionally in the first two minutes to prevent the pasta from sticking together.)
Once fully cooked, drain the water, and the tortellini are ready!
Tip: Check if the tortellini is definitely cooked by removing one piece from the pot and tasting it. It should be tender but firm to the bite, also known as "al dente."
Once the tortellini is fully cooked, it can be savoured in numerous ways such as mixing it with one of our sauces, and incorporating it into a delicious recipe. Find some inspiration below.
Menu Idea: For a warm and comforting meal perfect for the colder months, make a Tortellini Soup in these easy steps:
Boil chicken or beef broth.
Add in our 3 Formaggi Tortellini and simmer.
Add in parsley and fresh spinach and cook till wilted.
Serve homemade quality soup.

Serving Tip: Serve with warm slices of bread for dipping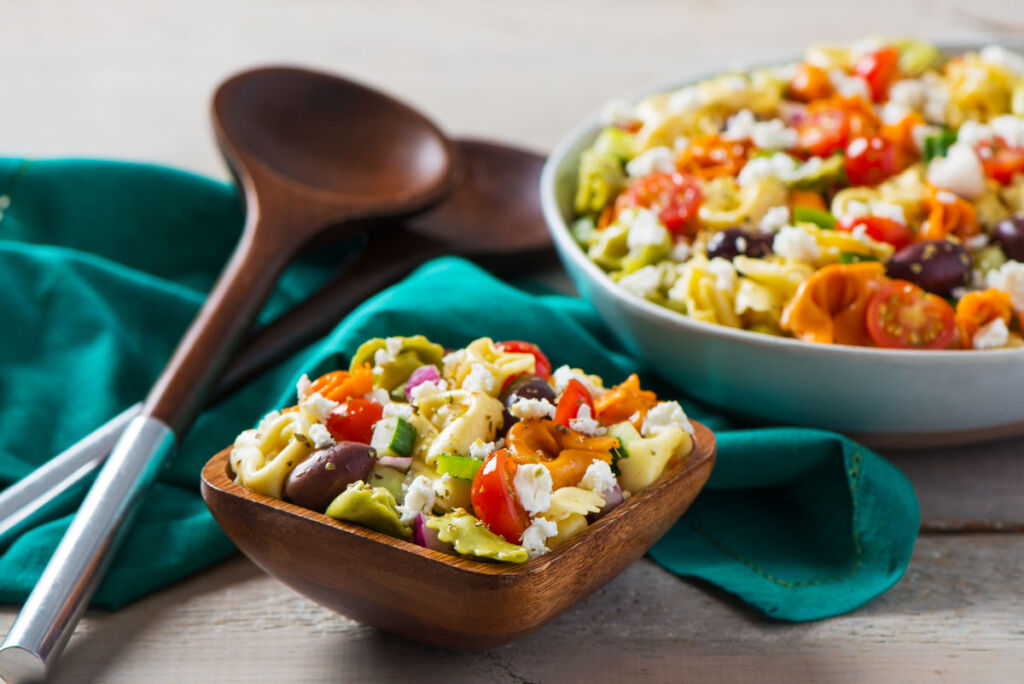 Vegetarian Tortellini Plates
Tortellini can be an excellent option for vegetarians because they can be filled with cheese, vegetables, spinach, mushrooms, or other meat-free ingredients. They enable meat-free menu items which are warm and comforting, especially when paired with a sauce.
Menu Idea: Tossed in a mix of olive oil, lemon juice, and oregano, the 3 Formaggi Rainbow Tortellini, this Greek Salad Tortellini recipe is bursting with taste in every mouthful. With a colourful array of fresh vegetables, and zesty greek flavours you can create a perfect starter shareable dish with these steps:
Boil the tortellini until it reaches an internal temperature of 74ºC (165ºF), then drain, and rinse with cold water immediately to cool.
Mix together olive oil, lemon juice and some oregano
Add in cucumber, green pepper, red onion, cherry tomatoes, black olives, and feta cheese.
Serve!

Flavour Tip: Sprinkle on some crushed red pepper for a light kick.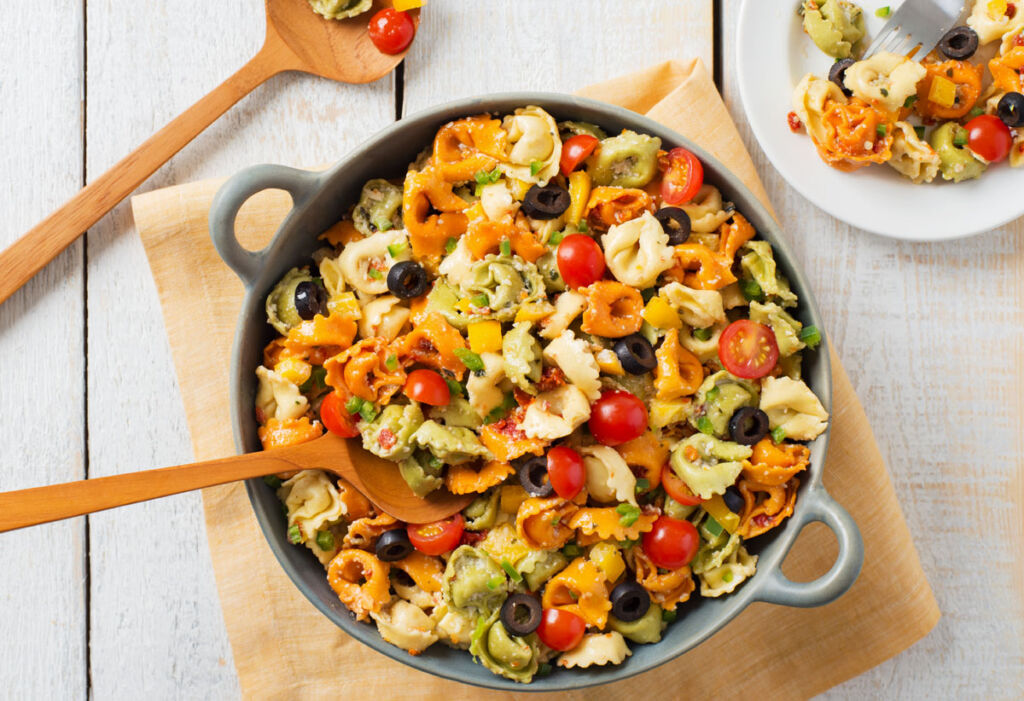 Menu Idea: The same tortellini can be used to make a Confetti Pasta Salad which makes an appetizing and vibrant blend of colours. With this dish, you can also mix in our pesto sauces for numerous versions, each with their own distinct taste. Just follow these simple steps:
Boil Olivieri® 3 Formaggi Rainbow Tortellini until it reaches an internal temperature of 74ºC (165ºF), then drain, and rinse with cold water immediately to cool.
Toss with our Basil Pesto Supreme sauce, then set aside.
Next, mix together mayonnaise, red wine vinegar, basil leaves, halved cherry tomatoes, chopped yellow peppers, sliced black olives, and finely diced sun-dried tomatoes.
Toss the Tortellini and other ingredients together and serve.

Finishing Touch: Add freshly grated Parmesan at the table for that extra touch!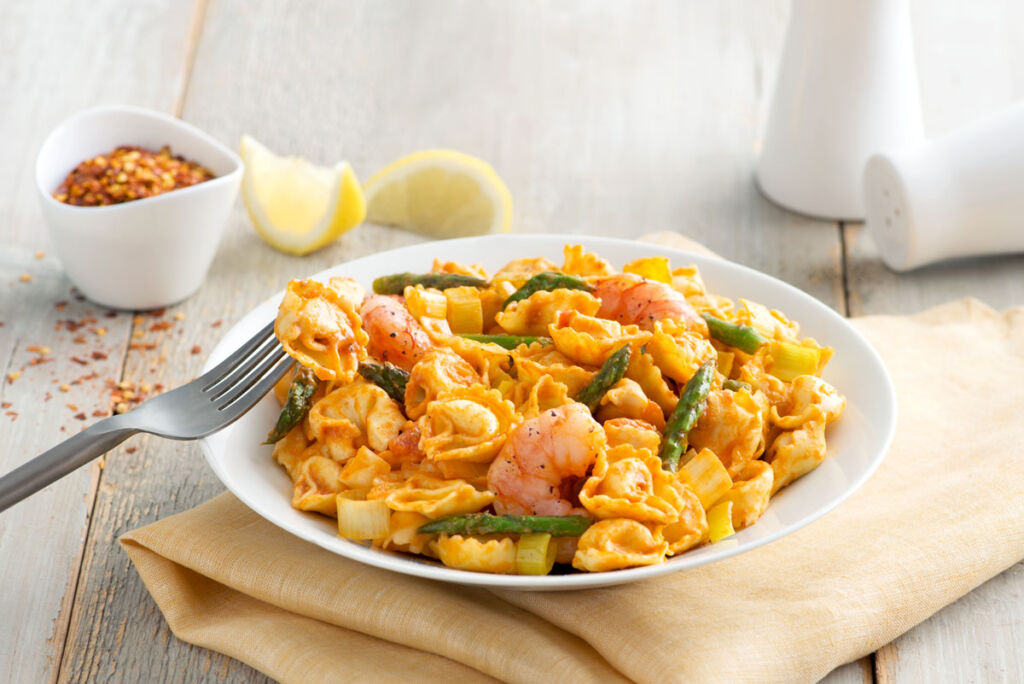 Tortellini with Shrimp
While our Tortellini are delicious year round, seafood is a great seasonal menu addition and a great way to buy local.
Menu Idea: A mouth-watering combination of tender Tortellini, juicy shrimp, and sautéed asparagus, leeks, and a touch of heat from red pepper flakes is this Tortellini with Asparagus Shrimp recipe. Impress your customers in just a few steps:
Sauté up some leeks and asparagus in oil until the leeks get tender.
Add in the shrimp, some red pepper flakes, and your choice of Olivieri® sauce, like our Classic Creamy Alfredo. Stir and heat through.
Boil Olivieri® 3 Formaggi Tortellini until it reaches an internal temperature of 74ºC (165ºF), then drain.
Toss the pasta in with the sauce and other ingredients. Season to taste
Serve with lemon wedges.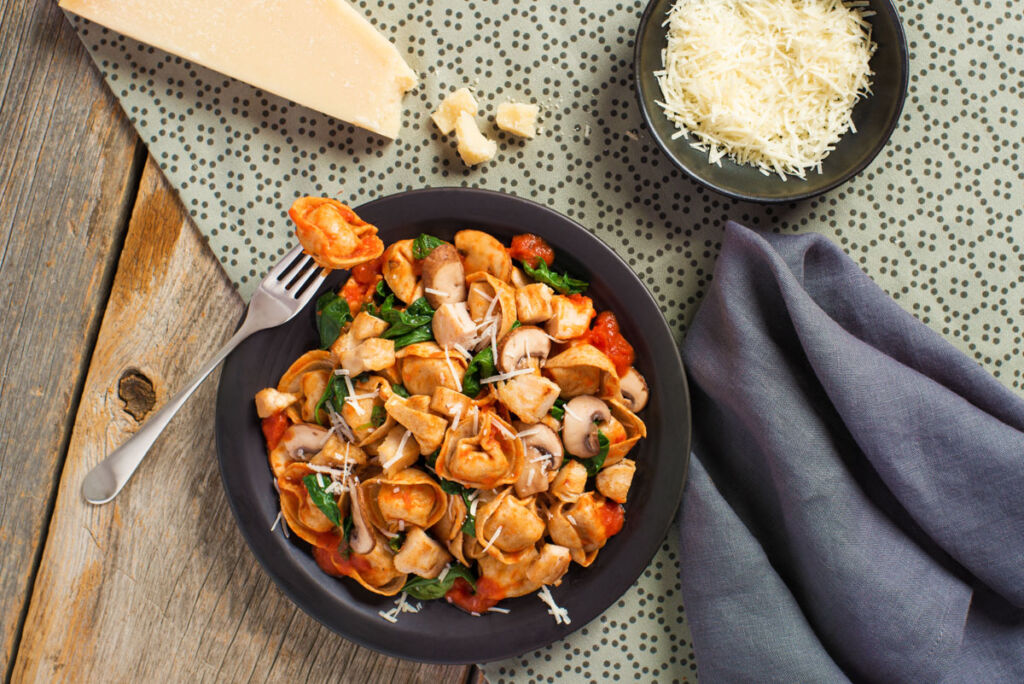 Chicken Dinners with Tortellini
Poultry – both chicken and turkey – are always menu hits. The mild flavour of chicken in particular pairs well with Olivieri®'s rich pastas and homestyle sauces.
Menu Idea: With this Cheese Tortellini with Chicken and Mushrooms recipe, customers can enjoy a delicious dish of Tortellini coated in a fresh Olivieri® Sauce of your choice, paired with sautéed spinach and mushrooms, juicy chicken, and finished with a sprinkle of Parmesan cheese. Just follow these simple steps:
Sauté the mushrooms for a few minutes before adding in baby spinach and sauté together until wilted.
Add in our Gourmet Tomato Sauce, chicken, and Parmesan. Stir until heated through and set to the side.
Cook our 3 Formaggi Tortellini to an internal temperature of 74ºC (165ºF) in salted water.
Toss together the pasta and sauce mixture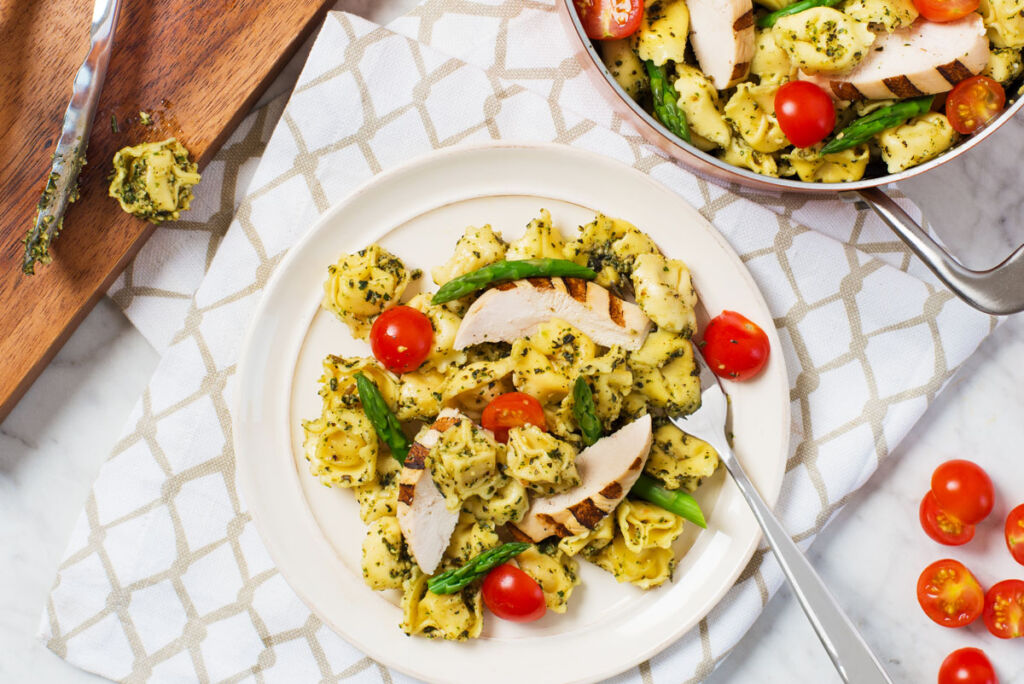 Menu Idea: This Chicken Pesto Tortellini with Cherry Tomatoes is sure to be a favourite menu item. It is simple without sacrificing flavour. Just follow these steps:
Cook seasoned chicken breasts or whatever you have on hand.
Cook our 3 Formaggi Tortellini to an internal temperature of 74ºC (165ºF) in salted water.
Add asparagus to the pasta water and continue boiling until pasta is done.
Toss in the chicken, Olivieri Basil Pesto Supreme Sauce, cherry tomatoes and pasta.

Recipe Tip: Finish off with fresh basil leaves and grated Parmesan presented at the table.
What sauce pairs with Tortellini?
One of the many advantages of tortellini is that it pairs well with a number of sources, enabling restaurants to offer numerous recipe variations. There are three sauces, in particular, that we suggest.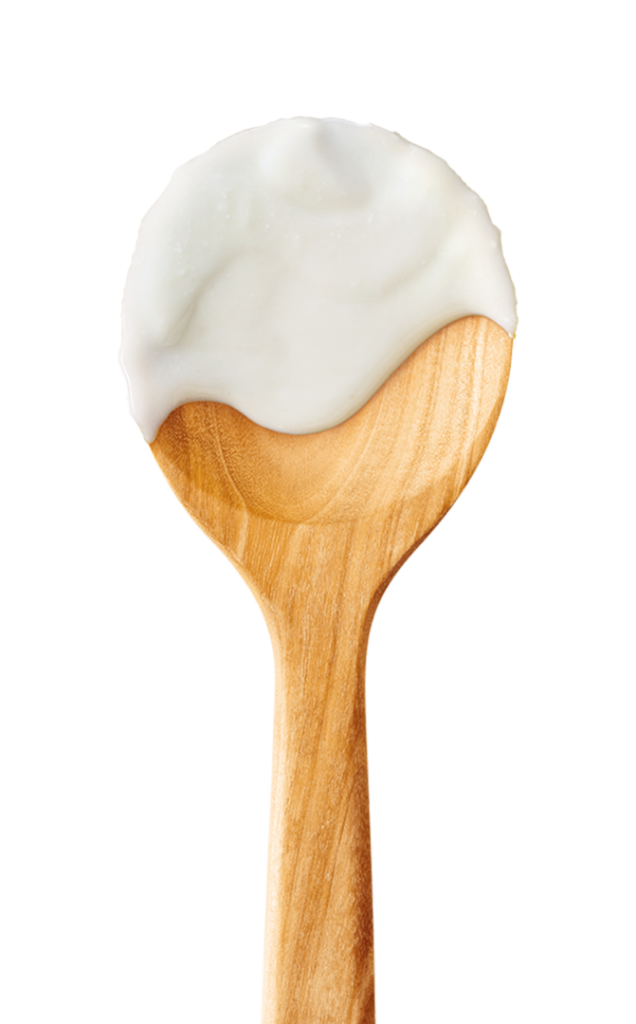 Alfredo Sauce
Alfredo sauce is a rich and creamy sauce made with butter, heavy cream, and Parmesan cheese. It pairs well with meat-filled tortellini and provides a rich, decadent flavour. Olivieri® offers two versions of this staple Italian sauce.
Alfredo Sauce – A timeless creamy complement to tortellini that delivers delicious and pleasing parmesan and gorgonzola cheese notes for any pasta dish. This luscious combination of flavours produces a comforting and indulgent sauce with endless applications.
Classic Creamy Alfredo Sauce – With its luxurious and velvety texture, the Classic Creamy Alfredo Sauce is the ultimate way to add an extra level of creaminess to your menu creations.
Pesto Sauce
Traditional home pesto sauce is made with basil, pine nuts, garlic, and Parmesan cheese, and is a perfect pairing with cheese tortellini. It provides a rich, nutty flavour that complements the cheese-filled pasta. At Olivieri®, we offer 3 pesto options without nuts allergen, and 1 with nuts to please multiple palates and menu needs: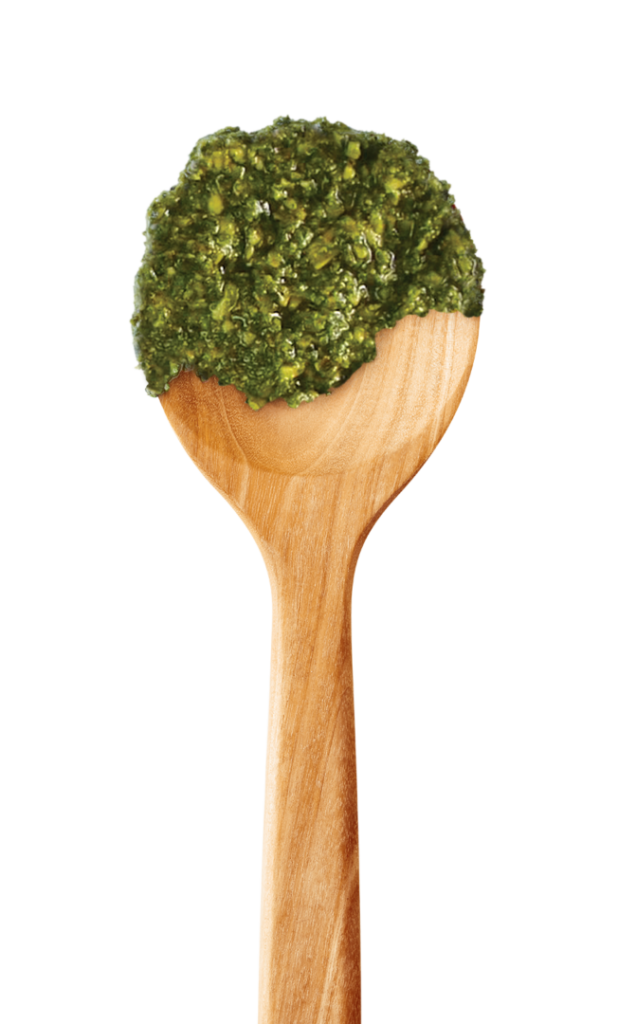 Pesto with Pine Nuts – A unique twist on one of the world's most beloved sauces, this Pesto is made with almonds for a delightful nutty flavour that lends an old-world charm to this versatile condiment.
Pesto Supreme – A delicious and elegant combination of basil, oil, Parmesan, and Romano cheese that traces its origins to Genoa. There are no nuts in the ingredients, making it a great option when you want a menu with reduced allergen risks.
Sundried Tomato Pesto – Blending fresh basil pesto with tangy sundried tomatoes, this sauce boasts a rich and distinctive flavour that adds a unique touch to any dish. Plus, there are no nuts in the ingredients!
Red Pepper Pesto – A savoury blend of basil, oil, Parmesan cheese, and roasted red peppers that can instantly elevate any dish. This pesto also has no nuts in the ingredients.
Tomato Sauce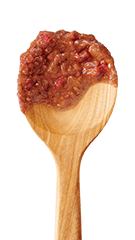 A classic option, tomato sauce pairs well with cheese-filled tortellini. You can use a simple marinara sauce or add some herbs and spices to make it more flavourful.
Gourmet Tomato Sauce – A fusion of fresh tomatoes and savoury herbs, this sauce brings a burst of flavour to any pasta dish. Like a traditional marinara sauce but with the added richness of juicy tomatoes, this sauce provides an unmatched depth of texture and flavour.
With the ease of preparation, the wide range of possible recipes, and the numerous sauces that can be added, tortellini makes an exceptional menu item. At Olivieri®, we will continue to offer you our best tips, tricks and suggestions.