A perfect addition to your Menu, Gnocchi are an Italian specialty with many uses that will satisfy everyone's tastes. Because of their versatility, Gnocchi are an excellent staple for your menu, as they pair well with all of our quality Olivieri® sauces. Learn how these pillowy dumplings can be ideal for any main course or side dish that both kids and adults will love, from breakfast to dessert and everything in between.
What are Gnocchi?
Originating from Italy, traditional Gnocchi are made from potatoes and durum wheat semolina and may contain a few other ingredients like oil and salt. Olivieri® Fresh Gnocchi are a fantastic option for many dishes as they are made fresh and can be cooked in just a few minutes in boiling water. The result is a light, airy, and fluffy bite-sized dumpling that pairs perfectly with a wide variety of incredible fresh sauces. Our Gnocchi are made of high-quality ingredients and sold refrigerated to deliver the freshest possible experience. They will be ready in minutes from package to plate.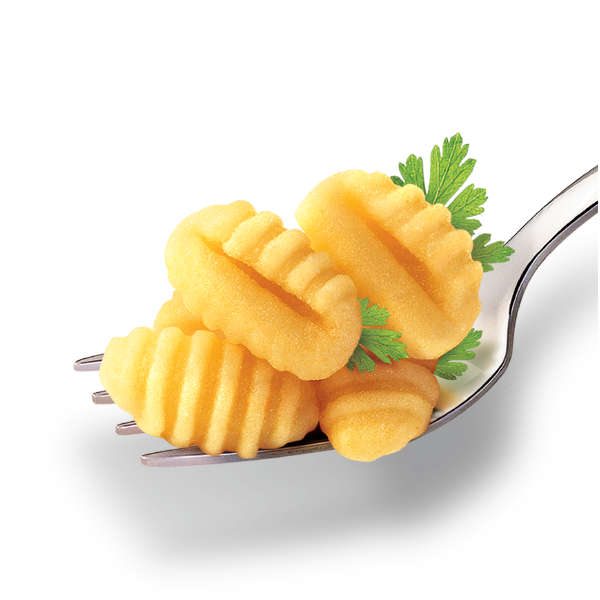 Are Gnocchi Pasta?
Gnocchi often have ridges that are ideal for holding onto sauce but make them look like shells, so many confuse them with pasta. However, they are not pasta but dumplings made from potatoes and flour. Their ingredients are simple, and the texture makes it easy to bite and chew, making them a great menu option for all ages. 
They can be used as a delicious substitute anywhere traditional fresh pasta is used to give your customers a unique dish that will add variation to your Menu while keeping food cost in check.
Menu Idea: This Gnocchi Carbonara is a simple spin on a classic favourite that everyone of all ages will love. Simply follow these steps for a quick dish:
Cook bacon or pancetta in a large skillet. 
Bring Olivieri® Fresh Gnocchi to a light boil and Cook until an internal temperature of 74°C (165 °F) and drain.
Toss together gnocchi and bacon in skillet, then stir in our Olivieri® Classic Alfredo Sauce, simmer together until heated through. 
Sprinkle  grated cheese and grind fresh cracked black pepper.

Plating Tip: For an added pop of colour, garnish with chives
How adding Gnocchi to the Menu can Benefit Operations
Cut down on costs by using our Gnocchi in many dishes, from breakfast to dessert.
Changing up your menu can be a daunting task. One additional dish or seasonal special can create a surprising amount of extra costs and confusion in the kitchen. Luckily, you can keep things simple with Olivieri® Gnocchi. The versatility and easy cooking method make Gnocchi the perfect addition to your kitchen. Combine with our variety of premium sauces for a number of potential dishes that will keep your customers coming back for more. Our products will ensure you deliver consistent quality in every dish with minimal kitchen complexity and within budget!
Originating in the kitchens of Italian nonnas, Gnocchi's popularity has been on the rise in Canada and the US in recent years. You can create simple plates of pasta, unique salads, warming soups, and bite-sized appetizers with just one ingredient. We see more chefs incorporating these dumplings into their menus, as they are a great way to offer variation to vegan and vegetarian guests.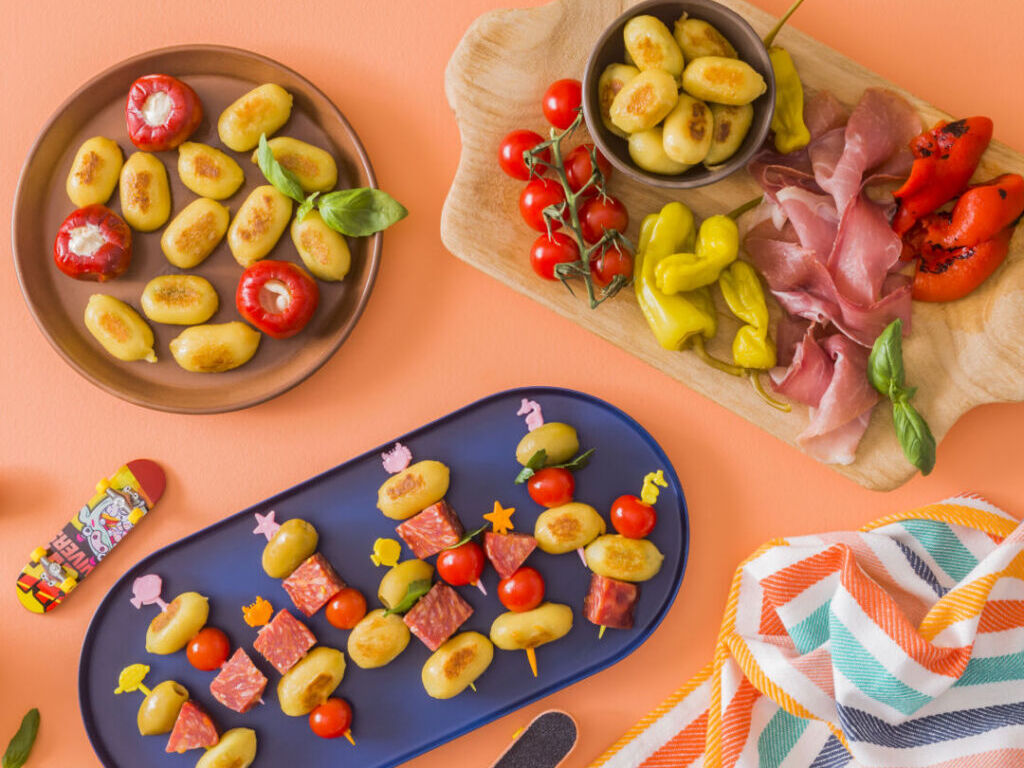 Versatile: Gnocchi can easily be used in fun appetizers, unique salads, delicious main courses, and even desserts. Being able to use the same ingredient in multiple dishes saves costs while adding something interesting to the menu at the same time!
Perfect for your kids' Menu: The simple ingredients tend to be picky-eater approved! Make a simple kid's menu item with our Gnocchi and Olivieri® Classic Alfredo Sauce.
Easy to make vegan and vegetarian dishes: Gnocchi pairs well with many vegetables and meatless sauces.
Easy to Cook: Our Gnocchi only takes 2 minutes to boil. Once boiled, combine with many sauces and ingredients to build your dishes! Easy preparation cuts down on both kitchen training and day-to-day labour costs.
Easy made to order: With that 2-minute cook time, Olivieri® Gnocchi cuts down on customer waiting time.
Shelf Life: Our sealed gnocchi bags offer 65 days refrigerated shelf-life from production thanks to our "Modified Atmosphere Packaging" technology. Find the perfect balance for your business selecting premium ingredients that fit your operational needs.
Picture Perfect Plates
In recent years, we have seen more Canadian-based food bloggers write about gnocchi dishes. Something cute and inviting about these bite-sized dumplings gives them an instagramable quality. As gnocchi dishes trend on Pinterest and TikTok, more people, especially generation Z, will be willing to try them out and post about them, giving you business and organic marketing simultaneously! Taking the extra minute to create aesthetically pleasing meals that will excite foodies and Instagram bloggers alike is a great way to gain some free marketing for your restaurant.
Here are some ideas on how you can use Olivieri® products to elevate your presentation:
Picture Perfect Pesto: Create a simple but dynamic dish by combining Gnocchi with our Pesto Basil Supreme , and add a few leaves of fresh basil on top for that extra camera-ready touch. The bright green of the pesto adds a beautiful and inviting pop of colour to your dish that will satisfy all the senses. 
Create Colourful Dishes: Skillet Gnocchi has a light golden brown colour, so adding a beautiful sauce full of rich flavour and colour, such as our Sun Dried Tomato Pesto will add dimension to your dish. A herby and unique sauce, our Red Pepper Pesto with a beautiful red colour will look stunning, topped with fresh herbs like basil and thyme for a satisfying contrast.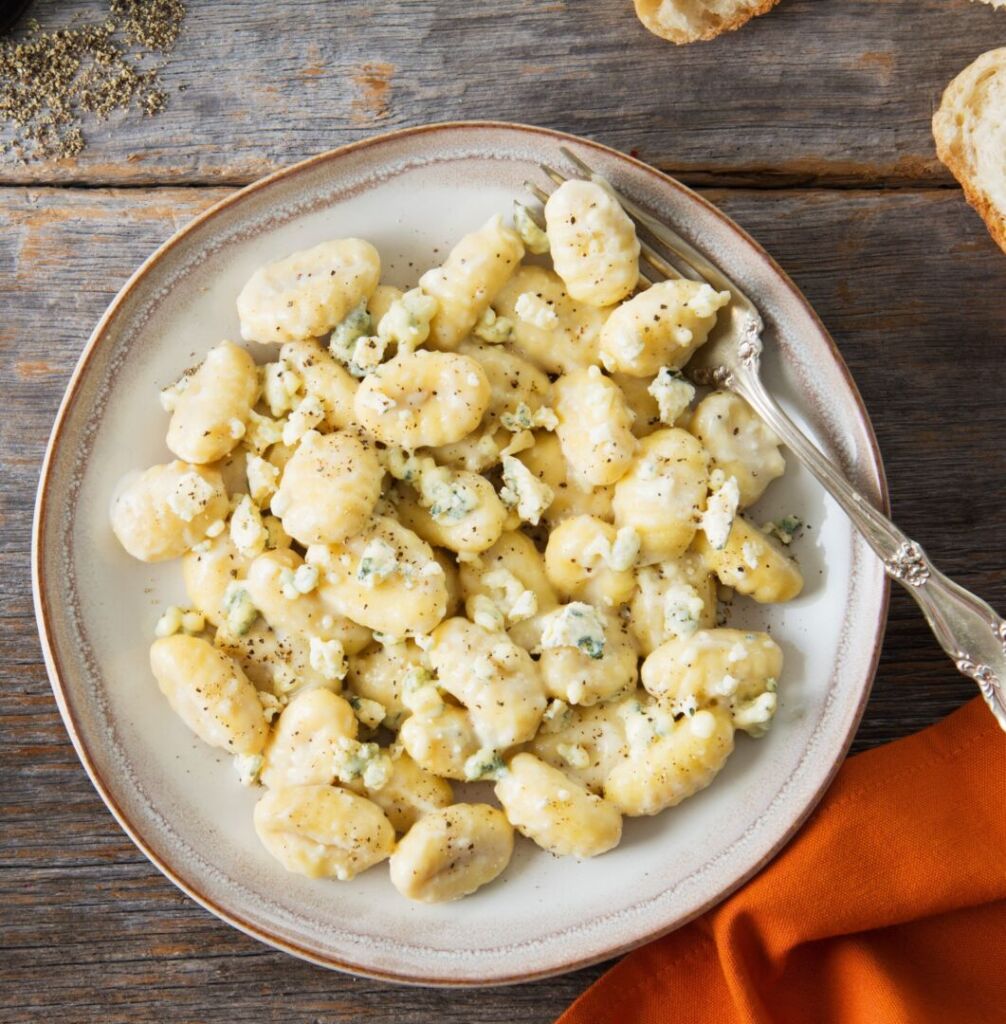 What Are the Best Sauces to Pair with Gnocchi?
Pair with any of our premium quality fresh sauces to create a large variety of menu items! You can opt for classics such as our Olivieri® Gourmet Tomato Sauce, or use our Roasted Red Pepper Pesto for a unique flavour that will pair nicely with vegetables and sausage. 
Refresh your Menu with Olivieri® Fresh Gnocchi. Our quality ingredients will help you save costs and prep time in the kitchen while adding traditional homemade flavour to your meals. Create memorable dishes your devoted guests will post about and keep coming back for!