Italian food is full of tradition and comfort, a cuisine that has brought people together for generations. With recipes and techniques passed down, Italians take pride in the preparation and specifics of their cuisine, so creating the classics isn't easy without access to fresh Italian ingredients.
Let Olivieri® help you bring authenticity into your kitchen and inspire you to get creative with the classics with our range of frozen pasta, sauces, and fresh gnocchi. Find new ways to create Italian-inspired meals that your customers will love without breaking the bank.
Read on for inspiration for your menu!
Traditional Cooking
Rich with tradition and local ingredients, Italian dishes vary from region to region, and the preparation of each dish requires specific methods to be considered authentic. From Parmigiano Reggiano made in Parma to Prosciutto wrapped in cheesecloth and cured for 400 days, Italians take the quality of specific ingredients very seriously, allowing even the most simplistic of dishes to shine.
Olivieri® products can help you and your kitchen staff get creative by preparing homestyle meals that pay homage to the old country.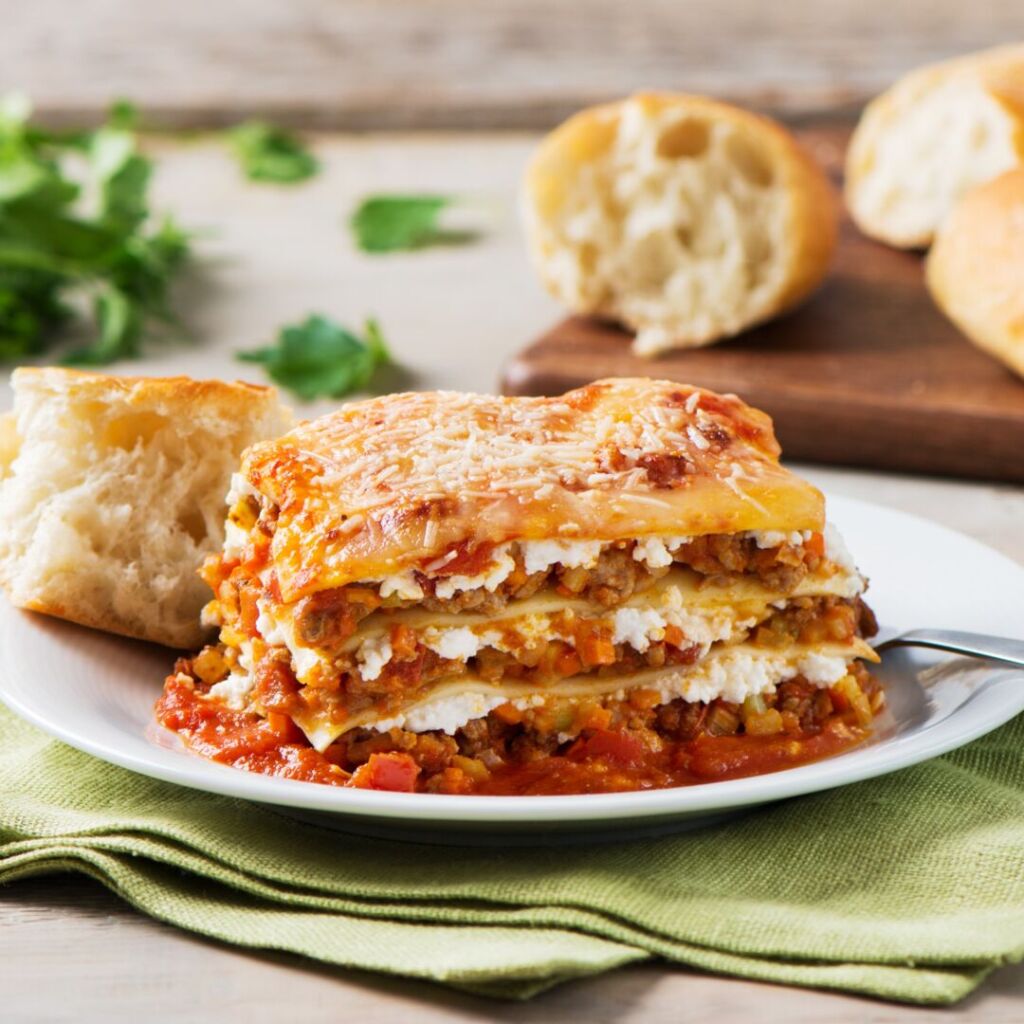 Classic vs. Creative Menu Items
There are many classic Italian dishes that originate from all around the country, but fresh pasta and pizza are the most common and well-known foods in North America.
Lasagna
Our Olivieri® bulk frozen lasagna sheets are ready to be used in a classically layered lasagna, or cut into the desired shape you need for creative dishes; even into pappardelle long cuts.
Keep with the Classic
Traditional lasagna is a rich and meaty dish made by layering flat noodles, bolognese, and bechamel sauce, then topped with Parmesan. Often, you see bechamel replaced for a cheese like a mozzarella and the bolognese switched out for similar sauces such as our Roman Meat Sauce.
Menu Idea: Keep classic and create a dish like this Old Fashioned Lasagna, for a menu item that will inspire comfort and nostalgia. This dish is easy to make and always a hit, just follow these simple steps:
Thaw out our Frozen Olivieri® Lasagna Sheets.
Sauté onion, carrot, and celery until tender.
Add in Ground beef and sauté until browned.
Pour in our Roman Meat Sauce and plum tomatoes, simmer.
Spread sauce on bottom of a deep pan and layer Lasagna Sheets, sauce, and ricotta cheese. Repeat layers until pan is full.
Top with the rest of the sauce, mozzarella, fresh Parmesan and whatever other cheese you desire!
Bake, and Serve.

Flavour Tip: Add a hint of spice to the sauce with some crushed red chili flakes
Lasagna with a Twist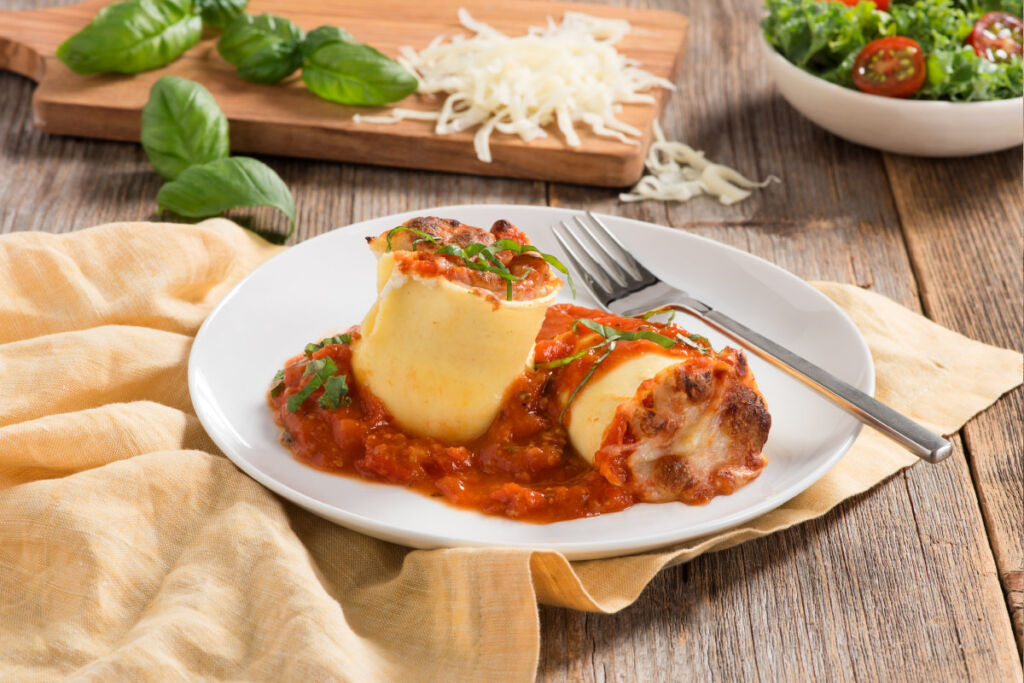 Menu Idea: Give your guests a new way to enjoy their favourite dish and create these Lasagna Roll-Ups with Roman Meat Sauce, packed with the flavours we all know and love, but with a distinct presentation. Follow these simple steps for a fun menu item:
Thaw Olivieri® Lasagna Sheets
Preheat oven and grease a muffin pan. Ladle in some Roman Meat Sauce into each cup.
Stir together ricotta, mozzarella, salt and pepper. Then spread cheese mixture onto each individual lasagna sheet, roll up sheets, cut into thirds, and place the individual rolls in the muffin tin. Fill with remaining sauce, sprinkle mozzarella on top.
Bake and serve!

Herb Pairing: Top with freshly shredded basil leaves as a final touch.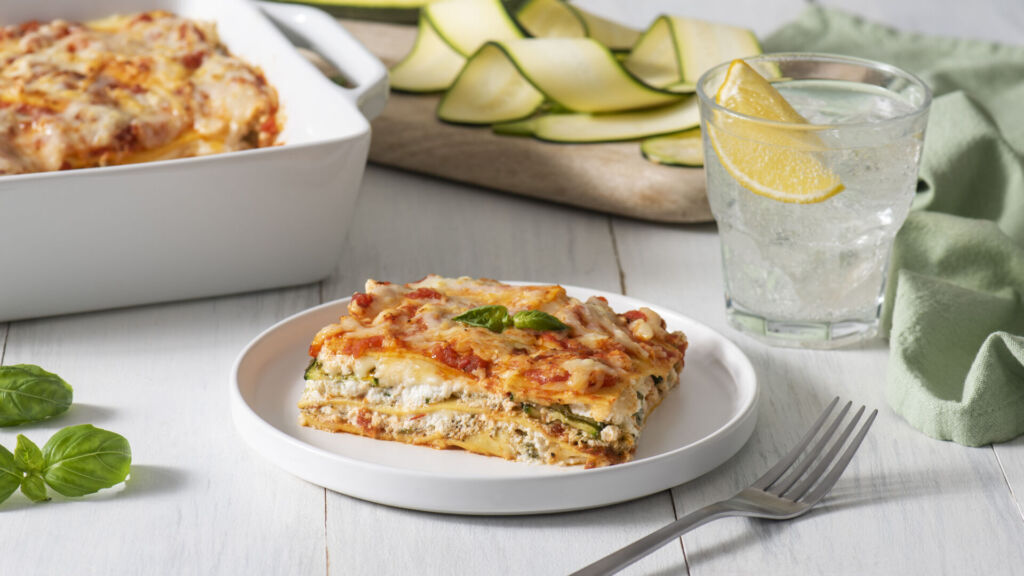 Meatless Lasagna
Diets, allergies, or lifestyle options may cause guests to avoid dishes that are packed with meat and cheese. Luckily, you can make a vegetarian dish with a few ingredient changes. Make bolognese with vegan meat or mushrooms to keep the texture similar: For the sauce, try using a cheese substitute made with cashews as a lactose-free alternative!
Menu Idea: Prepare a Roasted Zucchini Lasagna for a meatless menu option packed with flavour. Just follow these steps for a delicious dish:
Thaw Olivieri® Lasagna Sheets.
Preheat oven to 218º C (425ºF).
Marinate slices of zucchini with Olivieri® Basil Pesto Supreme.
Bake until golden and tender, then set aside.
Spread some of our Gourmet Tomato Sauce on the bottom of the lasagna pan.
Layer Lasagna Sheets, tomato sauce, roasted zucchini, ricotta cheese, and mozzarella cheese in a baking dish. Repeat until the lasagna dish is full.
Top with more tomato sauce, mozzarella and Parmesan.
Cover lasagna and bake.
Slice and serve.

Recipe Tip: Consider using different vegetables like roasted sweet potato or red pepper, hearty portobello mushrooms, and other colourful veggies that all of your guests can enjoy.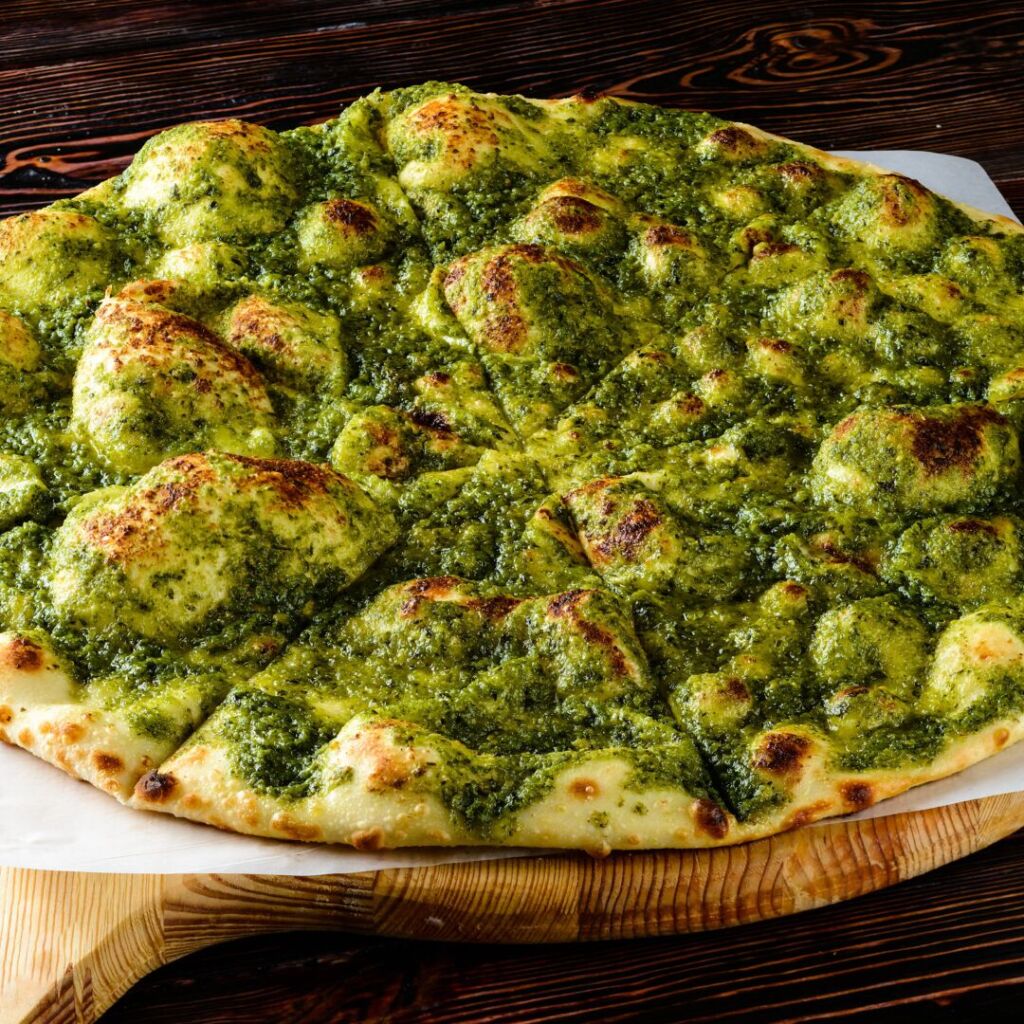 Pizza
Next to pasta, pizza is one of the most popular Italian dishes that has spread around the world and become a favourite. With different styles like Chicago Deep Dish from the United States, Tarte Flambee from France, Canadian Regina-Style, and many more, this simple food has many delicious forms. At its core, pizza is just dough, sauce, and cheese and while Italians have specific styles and recipes that they consider authentic, its simplicity allows for creative freedom.
Pizza Napoletana
Born out of Naples, this traditional style of pizza is considered one of the most original forms of the popular dish. The pizza is characterized by its softer dough, thin base, and use of fresh ingredients. Like most Italian recipes, the commitment to simplicity is found in the fresh tomato sauce, mozzarella, and the addition of only one or two more toppings such as fresh basil or anchovies.
Try using our Olivieri® Gourmet Tomato Sauce as a base. You can build a simple Margherita with mozzarella and basil, or create pizzas with more complexities.
Build-your-own Pizza
With good dough and any of our sauces made with premium ingredients, you can't go wrong with adding build-your-own pizzas to your menu. An easily customizable item that saves you money, pizzas are a great addition to any menu, and giving your customers options and opportunities to customize their dishes will please a larger audience and suit different dietary needs.
As many ingredients are interchangeable between pasta and pizza, you can create a list of options with the meats, cheeses, sauces, and vegetables you already have on hand – saving you space in the kitchen. Allowing guests the option to build their own pie is a budget-friendly way to extend your menu options and draw in a larger crowd.
Menu Idea: With our selection of fresh sauces, like our Sundried Tomato Pesto, you can get creative with crafting your pizzas. We offer a selection of versatile sauces that can be used for pasta, pizzas, dipping sauces, and more!
Check out this Guide to Our Frozen Pasta Sauces for more inspiration on how to extend your budget and save space in the kitchen.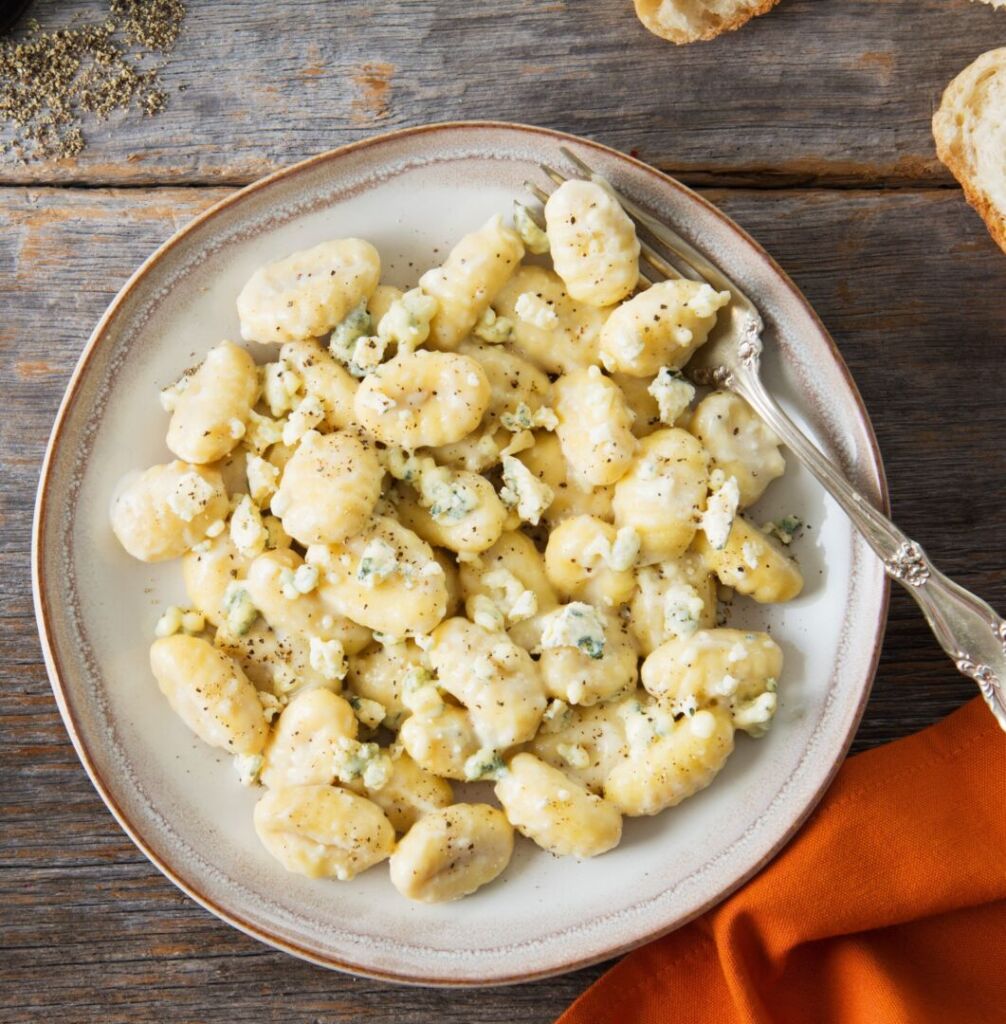 Get Creative With Gnocchi
Gnocchi are small potato dumplings that soak up any sauce and pair well with a number of ingredients, this Italian classic is sure to become a menu favourite. They are not considered to be pasta but can be substituted for noodles, offering a unique menu item that will excite your guests.
In Italy, gnocchi is most commonly tossed in butter and sage and then served; however, for a herby and nutty dish, they pair deliciously with our Pesto with Pine Nuts sauce. The unique texture of gnocchi makes it perfect to pair with our sauces, in a salad, in soups, or even as an appetizer. Learn more about our Olivieri® Fresh Potato Gnocchi and just how this Versatile Menu Item can be for your operation!
Check out some creative ways to use this delicious dumpling on your menu.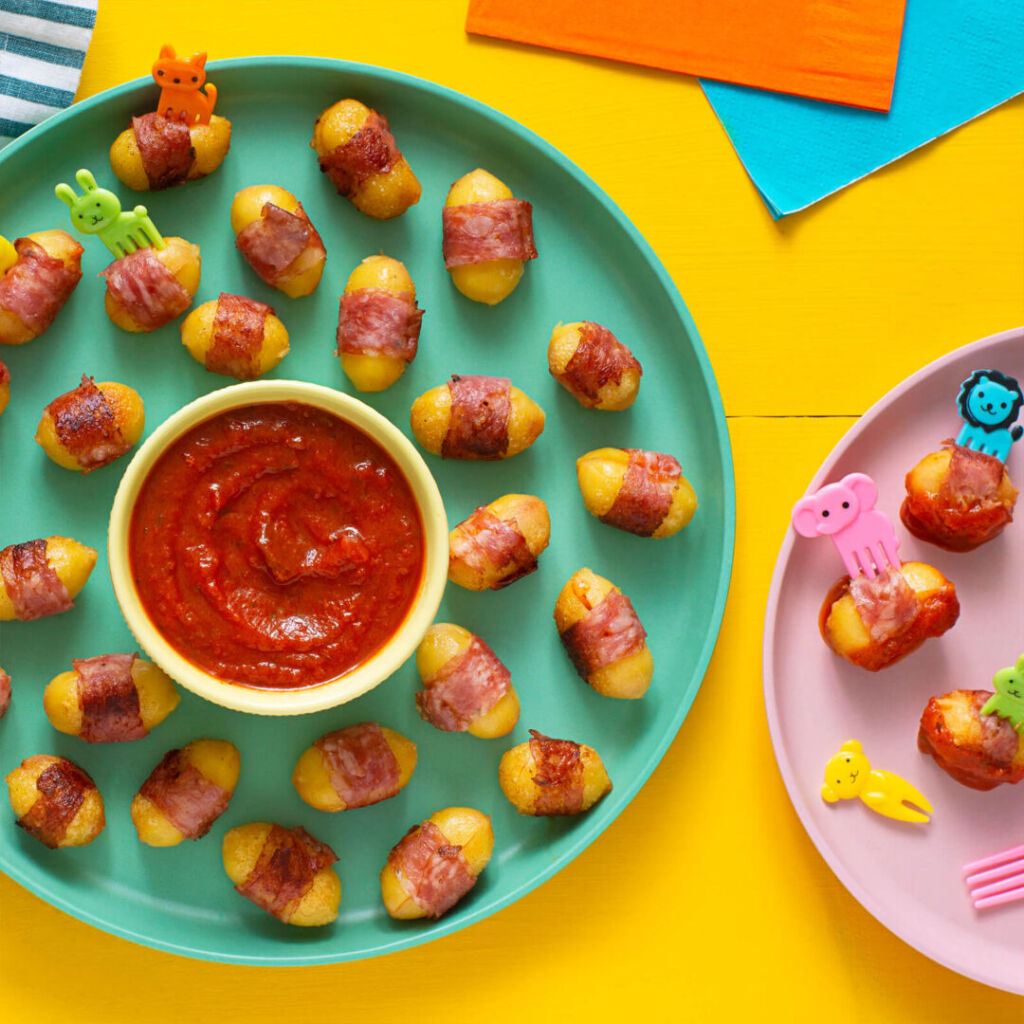 Gnocchi Starters
The unique texture of these potato dumplings makes them the perfect bite-sized appetizers that even kids will love!
Menu Idea: Create some dippable starters with our Fresh Gnocchi and delicious sauces, like Gnocchi Pizza Bites that can be ready in these few steps:
Wrap soppressata or a similar thinly sliced sausage around each gnocchi, then secure with a toothpick.
Heat oil in a skillet and sauté gnocchi until they are heated through, golden brown and crispy. 
Serve with a side of heated Gourmet Tomato Sauce for dipping.

Menu Variation: Sprinkle in mozzarella when the gnocchi is still hot to add a cheesy element.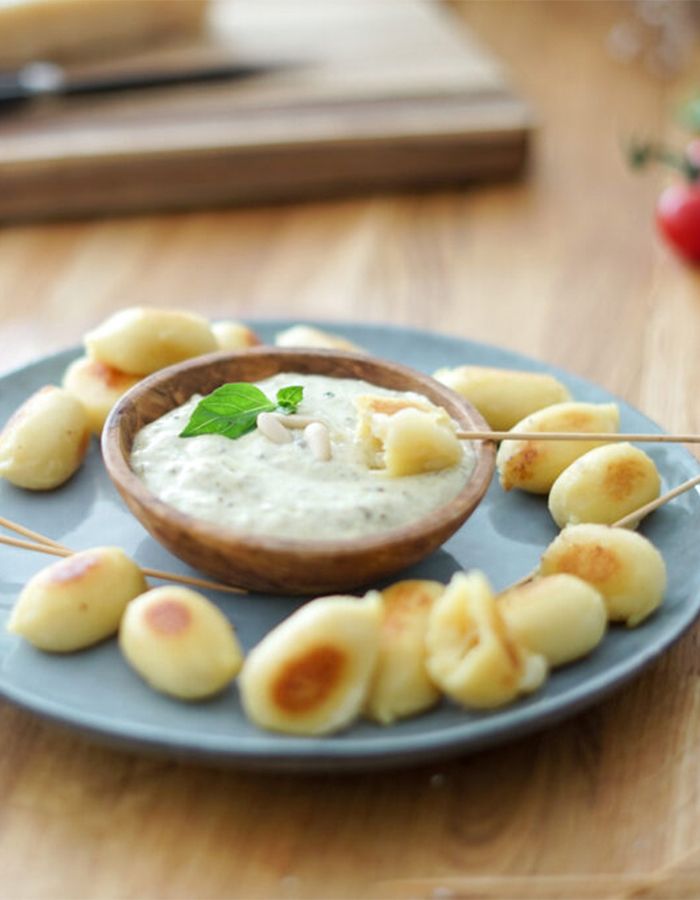 Gnocchi with Creamy Pesto Dip
Or create another fun and dippable gnocchi appetizer that kids will love with Creamy Pesto Dip. Simply just follow these steps:
Sauté our Fresh Potato Gnocchi in a pan with butter or oil until golden brown.
In a vowel, mix a melty white cheese with our Pesto with Pine Nuts sauce and warm through.
Serve the gnocchi with the dip and include long toothpicks or skewers for customers to avoid getting sauce on their fingers.

Recipe Tip: Add a splash of lemon juice to the sauce at the end.
Create a Gnocchi Board
For a fun appetizer that's delicious for adults and kids alike, consider incorporating a gnocchi charcuterie board as an option!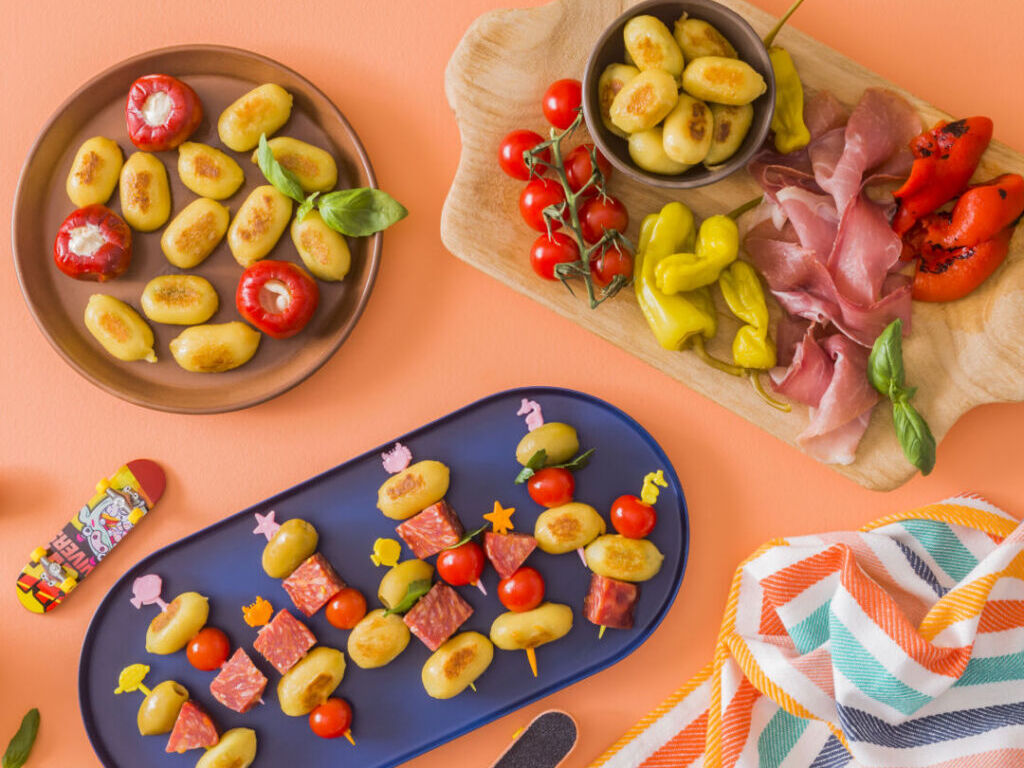 How to Build a Gnocchi Board
Dips: Add a splash of colour and flavour with a few of our tasty sauces – 1 zesty pesto, a rich tomato sauce, and of course, a creamy alfredo sauce.
Cheese: The general rule when it comes to building a board is to include 3 to 5 cheese varieties of cheese featuring at least 3 cheeses: a hard cheese, a soft cheese, and a blue cheese.
Sliced meats: Charcuterie, translated from French as from the pork butcher's shop, is the art of preparing and assembling cured meats.
Menu Idea: Have guests customize their skewers for Gnocchi Antipasto Bites. Lay out some cured meats like salami, pancetta, hard salami, prosciutto, and mortadella: fan them out or loosely roll them, so they are easy to grab or skewer.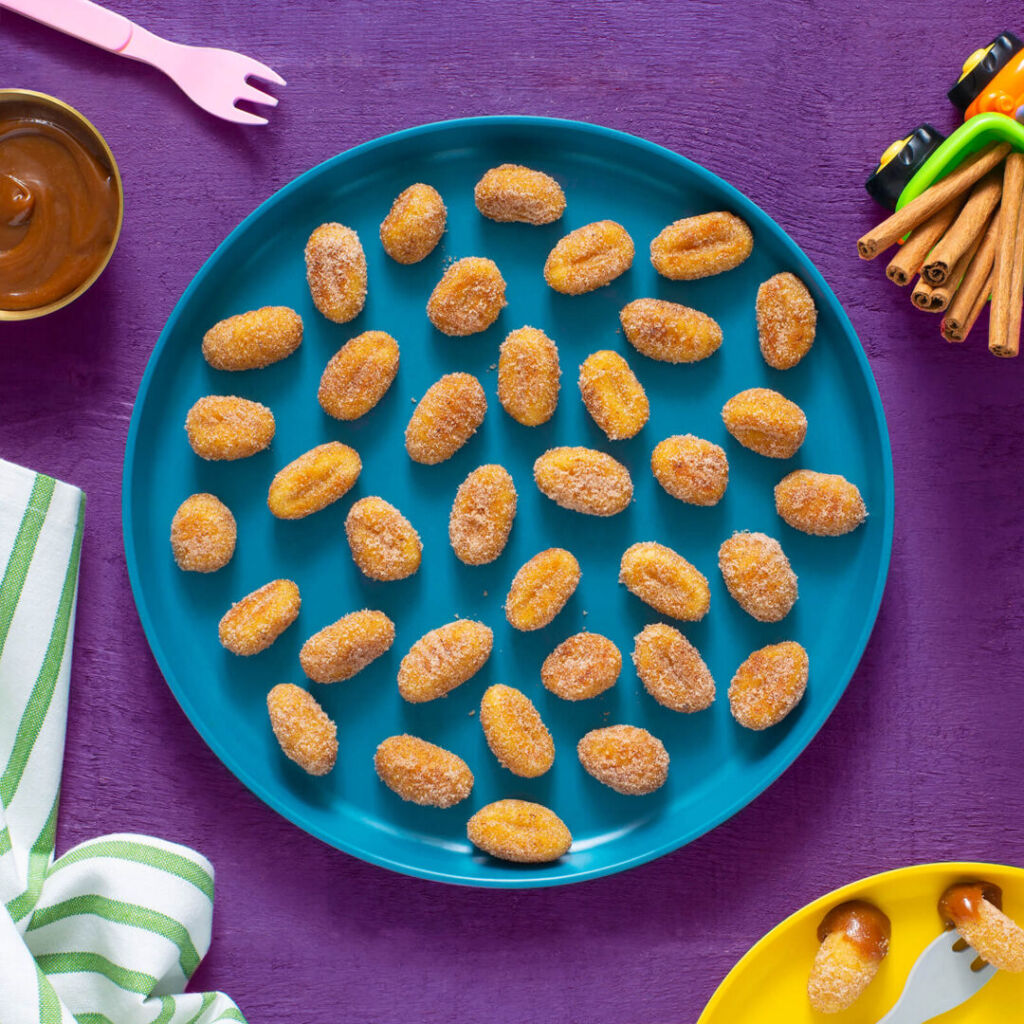 Delectable Dessert Ideas
Looking for an exciting dessert to serve? Coat cooked Gnocchi in sugar and cinnamon for tasty Churro-Style Gnocchi Bites in these simple steps:
Cook Fresh Potato Gnocchi in a skillet with butter or oil until heated through, golden brown and crisp.
Coat gnocchi in a sugar and cinnamon mixture.
Plate alongside an array of sweet dipping sauces that your kitchen probably has on hand:
Dulce de leche or caramel syrup
chocolate sauce
strawberry or raspberry jam
honey
Create a number of simple and delicious Italian-inspired dishes with just a few Olivieri® Foodservice products! Our quality ingredients will help you take any menu item to the next level, satisfying your guests with traditional and creative recipes.