With its diverse population and various cultural influences, Canada is also home to a range of ingredients that help to create dynamic and unique dishes. With thousands of kilometers of farmland, access to fresh seafood, and wild game aplenty, the opportunities to make delicious menu items are endless.
Giving your customers dishes with high-quality, fresh ingredients will help make their experience unforgettable. Using locally sourced ingredients will allow even your most simple dishes to shine. Making dishes with farm-to-table ingredients will inspire your chefs and bring your guests back for more.
Read ahead to learn how using locally sourced ingredients can add value to your operations and elevate your dishes.
The Benefits of Buying Local
Fresh and Quality Ingredients: By working with local farmers and suppliers, you can be sure to receive the freshest, most flavourful ingredients available that have not had to travel long distances to reach your kitchen. Our frozen pasta and sauces are made with premium ingredients sourced in Canada when possible; a feature which can help you to stand out against competitors.
Saving Costs: Purchasing ingredients directly from local suppliers can help reduce food costs, and storage costs, as you can order fresh ingredients more frequently. With our Olivieri® bulk frozen pasta, along with other fresh ingredients, you can optimize ordering and storage needs while serving your guests high-quality meals.
Supporting the community: Buying local helps support local farmers and the local economy. Highlighting local meats, vegetables, and other ingredients is a great way to be more involved with the community and preserve regional food cultures. Moreover, building relationships with key members of your community is essential given that word-of-mouth advertising continues to be the most powerful form of marketing.
Better Relationships with Suppliers: Using smaller, local farms and sources allows for more direct communication that will lead to a more intimate understanding of how ingredients are sourced. This will create a deeper connection between your kitchen and the ingredients you are using.
Better for the Environment: Sourcing local ingredients means reducing your carbon footprint by eliminating transportation needs.
Opportunity for Seasonal Dishes: Buying local produce allows you to use fresh ingredients and create dishes that change quarterly! Learn more about Making Menus with Seasonal Ingredients with Olivieri®.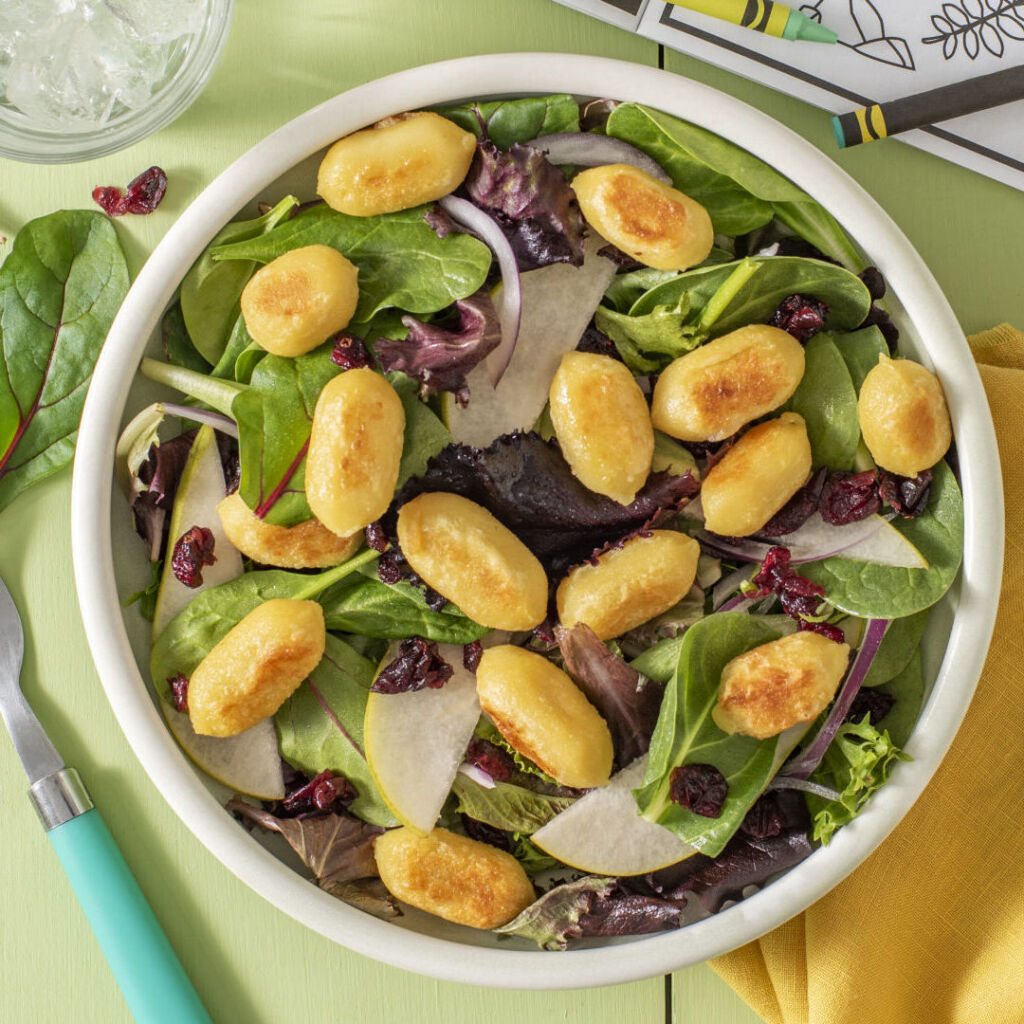 Choosing Local Ingredients
Canada is home to many produce, meats, seafood, syrups, sauces, and more. There are a variety of unique ingredients that you can keep stocked in your kitchen for a personalized and local touch that your guests will love!
Maple Syrup
One of Canada's staple ingredients, maple syrup is not only delicious on pancakes and desserts, but it can also add complexity to savoury dishes. The sweetness of maple syrup balances out salty, spicy, or acidic elements, making it a perfect addition to a beef marinade or a gourmet pasta sauce that will impress your customers.
Menu Idea: Create a beautiful salad dressing with a hint of sweetness that will complement dynamic salads with cheese and fruit: this zesty Lemon Maple Skillet Gnocchi Salad is always in season. Your customers will love the sweet and salty combination!
Bring Olivieri® Fresh Gnocchi to a light boil.
Combine greens like arugula, spinach and kale in a salad bowl.
Add in sliced pear and thinly sliced red onion.
Whisk together olive oil, lemon juice, maple syrup, Dijon mustard, grated garlic, salt and pepper.
Top with warm gnocchi and cranberries.
Service Tip: Offer table-side fresh cracked black pepper for an elevated touch.
Menu Idea: For a truly unique and local dish, this Cheese Ravioli, Mushrooms, Maple Syrup and Québec Cheese Curds recipe will excite and impress your customers. Full of deliciously balanced ingredients and complete with a hint of local sweetness, make this meal by following these steps:
Prepare our Cheese Ravioli in boiling water.
Fry up fresh market mushrooms like oyster, chanterelles or porcini in oil.
Add in shallots and garlic for a few minutes
Add in local Québec maple syrup, beef or veal stock, some of our Gourmet Tomato Sauce, and cook together.
Toss the Ravioli into the sauce, mix and serve with chopped parsley as a garnish.
Recipe Tip: Keep this dish vegetarian by replacing beef stock for vegetable stock.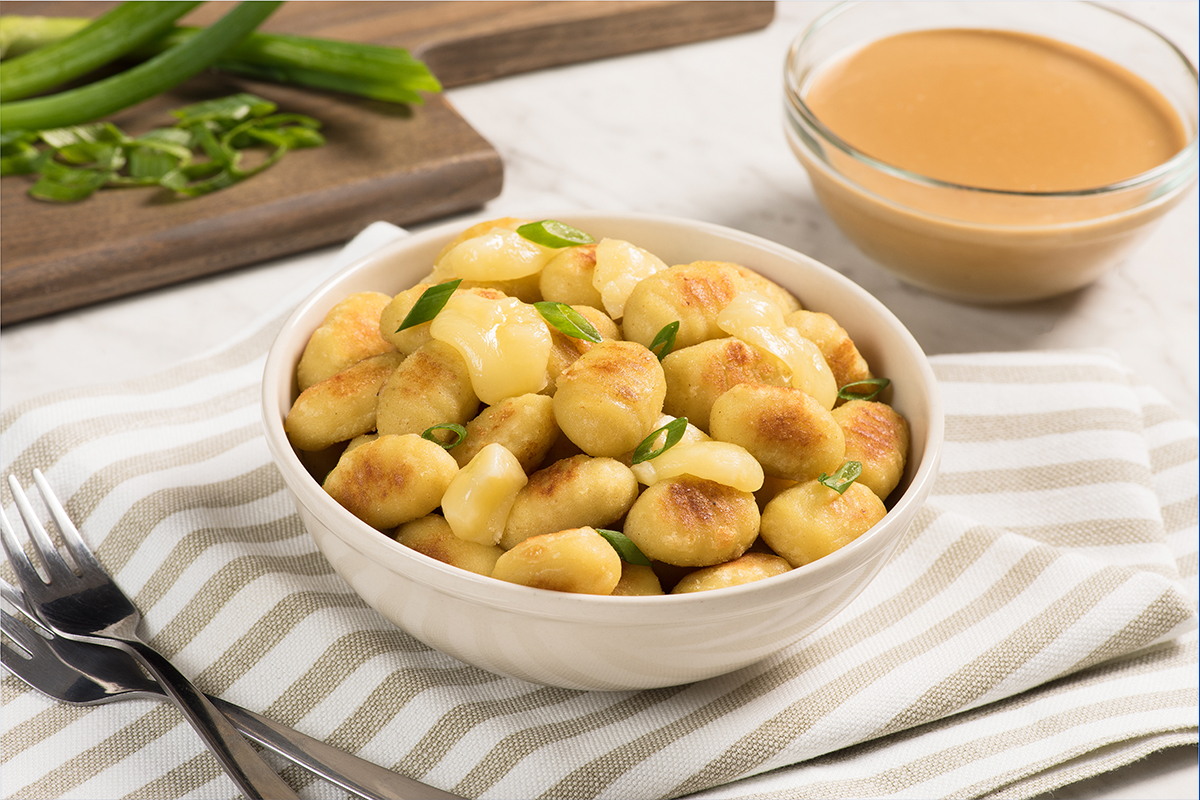 Gravy
Recognized as Canada's national dish, poutine is made with french fries, cheese curds, and of course, gravy. Most commonly made with beef and or chicken broth, gravy is an important staple in many Canadian households and perhaps in your restaurant!
While there are many ways to create a quick and inexpensive gravy, elevate your dishes by buying locally sourced broth to make a delicious classic dish. Every Canadian knows and loves poutine, but have they tried Gnocchi Poutine? Add this fun twist to your menu for a unique appetizer that the kids will love:
Bring Olivieri® Fresh Gnocchi to a light boil..
Toss gnocchi in a pan with oil and sprinkle in salt and pepper
Heat gravy until it comes to a light boil.
Add in cheese curds
Serve with gravy on the side as a dipping sauce, or pour over gnocchi.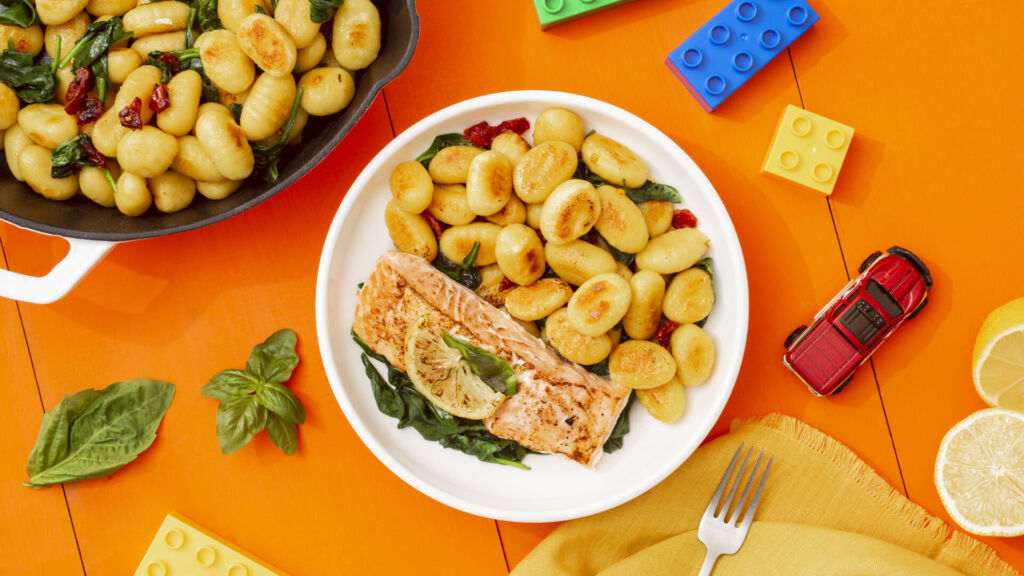 Seafood
A fresh and flavourful selection of seafood is readily available in most of the country. As Canada is situated between two oceans, and abundant in beautiful lakes and rivers, fresh fish is a great choice to include on the menu. From Atlantic Salmon and lobster to Pacific halibut and pickerel from the lakes, there are high-quality seafood options for everyone to enjoy. Furthermore, seafood is available at every price point
Salmon: With Atlantic Salmon and our delicious Fresh Potato Gnocchi, you can create a dish such as this Baked Salmon and Skillet Gnocchi. With a burst of zesty lemon and tangy sun-dried tomatoes, this will brighten up your menu while keeping your guests full and satisfied. Just simply follow these tips:
Whisk together olive oil, finely grated lemon zest, lemon juice, salt and pepper and set aside.
Brush mixture over salmon fillets and top each fillet with basil leaves and lemon slices
Bake salmon on parchment-lined baking sheet
Bring Olivieri® Fresh Gnocchi to a light boil, cook, and drain.
Add cooked gnocchi, chopped sun-dried tomatoes, and spinach to a skillet and cook until spinach is wilted
Drizzle in any leftover lemon and oil sauce and toss together.
Divide salmon between plates and serve alongside gnocchi mixture
Tasty Tip: Use the oil from the sun-dried tomatoes in sauce for extra flavour.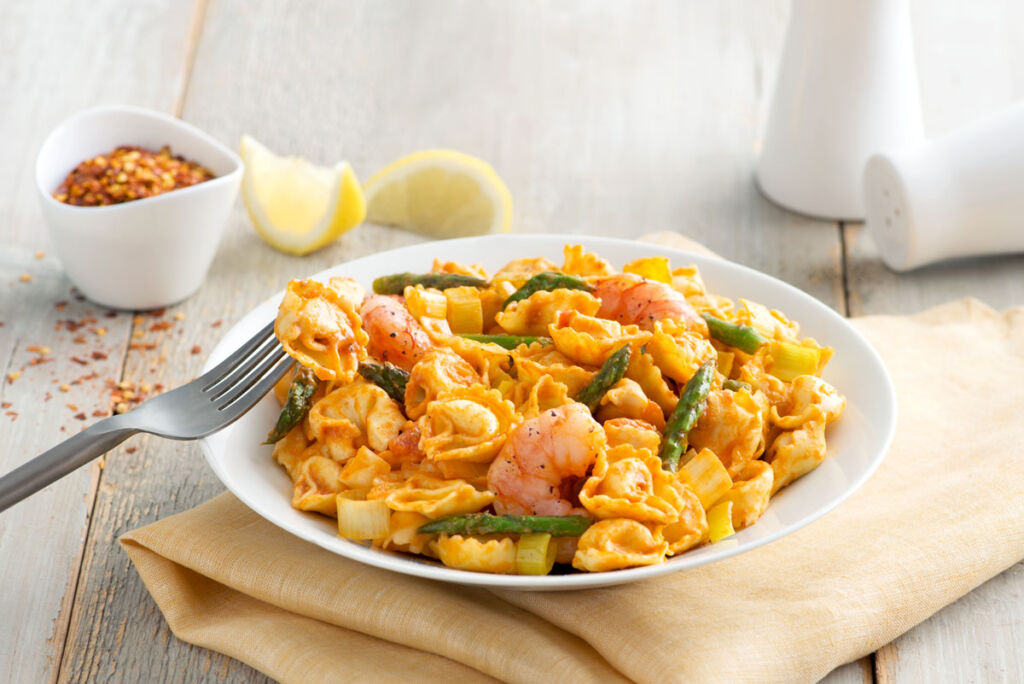 Shrimp: Our 3 Formaggi Tortellini pairs beautifully with shrimp freshly caught in the Gulf of St. Lawrence. For a simple yet delicious entree, add a Tortellini with Asparagus Shrimp dish to your menu. With a delicious combination of local flavours, this seafood recipe is sure to be a hit on your menu. Just follow these steps:
Sauté up some leeks and asparagus in oil until the leeks get tender.
Add shrimp, some red pepper flakes, and your choice of Olivieri® sauce, like our Classic Creamy Alfredo. Stir and heat through.
In another pot, boil Olivieri® 3 Formaggi Tortellini until it reaches an internal temperature of 74ºC (165ºF), then drain.
Toss the pasta in with the sauce and other ingredients. Season to taste.
Serve!
Tasty Tip: Finish with fresh squeezed lemon for a zesty balance.
Lobster: Try making a beautiful lobster ravioli Alfredo with fresh lobster from Nova Scotia, Oliveri® Cheese Ravioli and ourAlfredo Sauce made with fresh Canadian Cream for an elevated menu item to impress your customers.
Meat
Canada hosts a wide variety of local meats that are known for their top-quality and unique flavours. Farmers raise meats that include beef, pork, lamb, and poultry. With prized beef from Alberta and Saskatchewan and Lamb from Quebec, there are a wide variety of rich and delicious local meats that you can incorporate into your dishes.
Create a carbonara-style dish with local back bacon and our Creamy Alfredo Sauce made with premium ingredients. We suggest using spaghetti or fettuccine, as the sauce will cover the noodles evenly.
Or try making a warm and comforting meal with our Beef Cannelloni, made with 100% Canadian Braised Beef that will pair perfectly with any of our fresh sauces.
Dairy
Buying local dairy products will enhance the fresh quality of your heavier, creamy, and cheesy dishes. Buying local cheese is a great way to support local dairy farmers, and Canada has no shortage of great local picks!
In fact, Oliveri® is committed to using 100% Canadian cream for our sauces and fillings!
Canada is home to a rich and diverse selection of local cheese that reflects the country's different regions. Consider adding some buttery brie from Quebec to a dish made with our Fresh Potato Gnocchi, or even create a lasagna with local meats, cheese made from caribou, and our Pre-Cooked Lasagna Sheets for a creative local take on the Italian classic.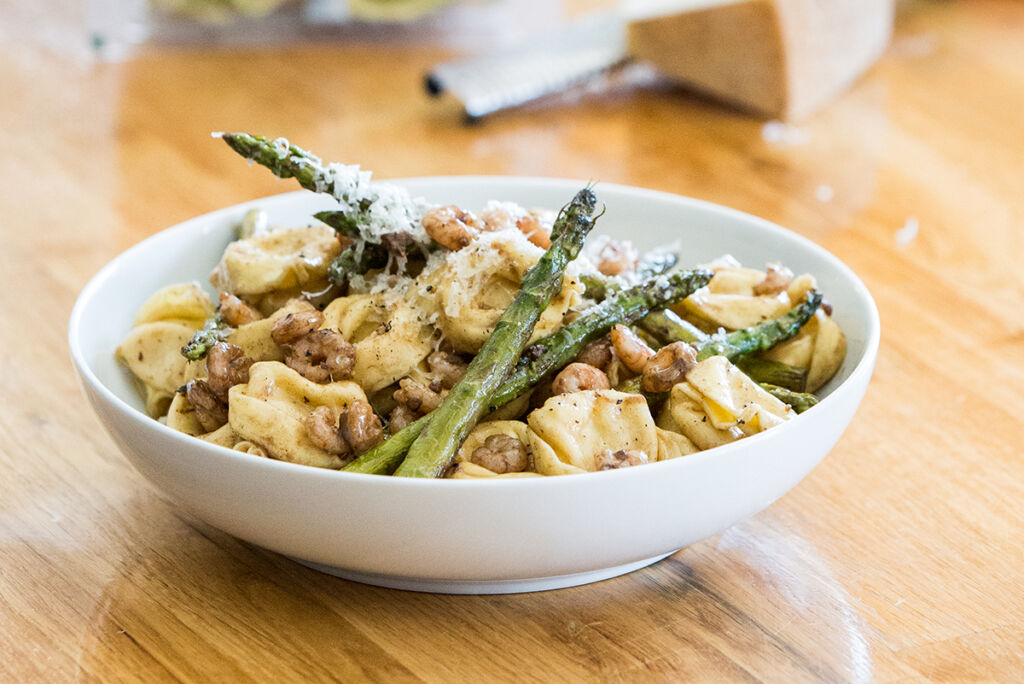 Produce
With tons of farmland and a plethora of greenhouse growers, there is no shortage of colourful local fruits and vegetables that you can incorporate into your dishes. The specific ingredients will differ depending on the region, and each season brings a new selection of tasty, fresh produce. Getting fresh produce from a local supplier is a great way to elevate the quality of dishes, as you can distinctly taste the difference when it's fresh!
Menu Idea: With local Canadian flavours, this Tortellini dish will become a favourite for your customers in no time. Grab our 3 Formaggi Tortellini, Matane Shrimp, Québec Asparagus, and common kitchen staples – spices and dressings – to create this elevated menu item for your customers.
Cook our Olivieri® 3 Formaggi Tortellini to an internal temperature of 74ºC (165ºF) in salted water.
Fry asparagus in olive oil then add in garlic, thyme, balsamic vinegar, salt and pepper and cook for a few minutes before placing in a bowl.
Fry shrimp in simmering olive oil.
Add cream, pepper, asparagus, the Tortellini, and mix together.

Tasty Tip: Grate some parmesan cheese on top or sprinkle some Gré des champs shavings for a gourmet touch.
Keep Local With Olivieri
Using Oliveri® Products means you are buying locally! Our products are made with ingredients locally sourced in Ontario and British Columbia. With 100% Canadian Beef in our Beef Cannelloni and Roman Meat Sauce, and our Alfredo sauces made with 100% Canadian Cream, you can keep your dishes close to home.
Using locally sourced ingredients is an excellent way to elevate the quality of your dishes and give your customers an unforgettable experience. By purchasing from local farmers and suppliers, and using Oliveri® products, you can reduce food and storage costs, and create colourful dishes all while supporting your local community. Level up your menus with personal touches that give your food a homemade feel with 5-star quality.